George A. Sprecace M.D., J.D., F.A.C.P. and Allergy Associates of New London, P.C.
www.asthma-drsprecace.com
---
RAPID RESPONSE (Archives)...Daily Commentary on News of the Day

This is a new section. It will offer fresh, quick reactions by myself to news and events of the day, day by day, in this rapid-fire world of ours. Of course, as in military campaigns, a rapid response in one direction may occasionally have to be followed by a "strategic withdrawal" in another direction. Charge that to "the fog of war", and to the necessary flexibility any mental or military campaign must maintain to be effective. But the mission will always be the same: common sense, based upon facts and "real politick", supported by a visceral sense of Justice and a commitment to be pro-active. That's all I promise.
GS




TUESDAY and WEDNESDAY, April 29 and 30

, 2014



Outrageous! I never heard about this. I wonder why. Bottom line: SUE THE BASTARDS. It takes time, money and effects on health. But it's the only way to protect ourselves from these despots.

GS


Do you BELIEVE this @#$%??? When is this tyranny going to end?





MONDAY, April 28

, 2014





"AMERICAN ENERGY POLICY"

, WITH ITS HEAD IN THE SHALE SAND.

GS





SUNDAY, April 27

, 2014





RR#1



DARE TO BE SURPRISED...AND INFORMED.

GS




RR#2






RR#3



Here's an apt stereotype: WHAT JERKS!

GS





FRIDAY and SATURDAY, April 25 and 26

, 2014




Please see the Editorial in The Day (www.theday.com), April 24, 2014, entitled "Court Ruling Threatens To Divide Us", and relating to "affirmative action".

The 10th Amendment of the U.S. Constitution was not just a throw-away after-thought of the Founding Fathers, but rather a bed-rock principle of the Republic. Furthermore, this country is currently in political gridlock as it should be, given the great chasm between the crazy far-Left and even moderate Conservative principles. In fact, I believe that - if we did not have the safety valve of individual States' rights, initiatives and experimentation - we might well be witnessing a great deal of civil disobedience...or worse.

GS





SUNDAY through THURSDAY, April 20 through 24

, 2014



RUSSIA: WHY NATIONS DON'T HAVE "FRIENDS", ONLY INTERESTS.

GS






TUESDAY through SATURDAY, April 15 through 19

, 2014





RUSSIA.

There is, as always, another side to this story. At its core are our efforts to export democracy world-wide, not only by example but also by action. At what point do those efforts become counterproductive and even dangerous?

GS





MONDAY, April 14

, 2014





RR#1



"Pay now, or pay later". Now, which do you think that our "leaders" will choose?

GS




RR#2



A "MUST-READ": BARABING!

GS





SUNDAY, April 13

, 2014



MORE ON CLIMATE CHANGE...AND A GAME OF "SPIN THE BOTTLE".

GS





SATURDAY, April 12

, 2014



CAN YOU BELIEVE THIS?

I certainly can. The Teachers Unions have done as much harm to Black children as have drugs and single parent families.

And the victims continue to support these "dissembling miscreants", a term used to describe the tobacco companies decades ago. For more, visit the Category on this web site (www.asthma-drsprecace.com) entitled "Public Education Politics".

GS





FRIDAY, April 11

, 2014





RR#1



<>THE BUSH FAMILY DYNASTY: STILL CONTRIBUTING.

Within a few days of each other, the brothers Bush have offered the nation and the Republican Party two ways out of their current political morass. Jeb Bush has offered a sane and humane approach to Immigration as a substitute for the inane "amnesty" reflex of too many. And George W. Bush, in his comments for the 50th anniversary of LBJ's civil rights acts, has placed the responsibility for the continued plight of our Black brothers squarely on Education - or the lack of it for them. Embrace these two problems with solutions...and both the nation and the Republican Party will be much better off.

Thank you, gentlemen.

GS



RR#2



WHO KNEW? The power of Qatar's focus, vs America's ADHD.

GS





THURSDAY, April 10

, 2014



THIS IS WORTH REFLECTING ON: FACT, NOT HYPERBOLE.

And if only LBJ had not dealt with Viet Nam as he did, he would be considered among our great public servants.

GS





MONDAY and TUESDAY, April

7 and 8

, 2014





"KNOW THY SELF". AND KNOW THINE ENEMY.

Not knowing and taking these facts into careful consideration when dealing with our inevitable future is like trying to go to the moon with no knowledge of Science.

GS





SUNDAY

,

April 6

, 2014

RR#1

PRECISELY: THERE IS NO CONTRADICTION BETWEEN GOD'S CREATION AND HIS DESIGN: EVOLUTION.

GS




RR#2







SATURDAY

,

April 5

, 2014




RR#1


Ramirez cartoon from The Weekly Standard. (Can this guy draw or what?!)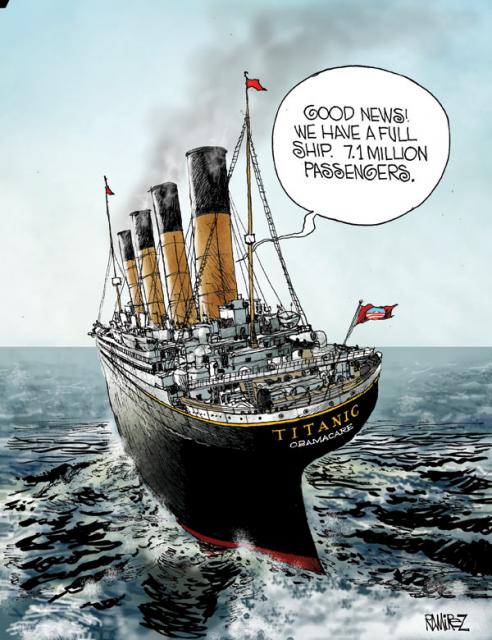 RR#2


CHECK THIS OUT: www.RunBenRun.org.

Dr. Ben Carson could be the pick of the Republican field for President in 2016. Are they that smart? Stay tuned.

<>

GS


RR#3


DEUTSCHLAND. They could have conquered the world without wars. And Watch Out: they still may.


GS


Germans, you have to give them credit for INGENUITY.


This is so interesting!!


RR#4

AND THE SLAUGHTER GOES ON.

Please read a very important article entitled "Christians In The Crosshairs", by the staff of Columbia Magazine (kofc.org/columbia, March, 2014). Fundamentalist Muslims are engaged in a very dangerous activity vs. their 2.3 billion Christian and Jewish brethren, two-thirds of whom live outside the West. Self-defense is always the basis for a "just war".

GS


RR#5

RIGHT (WRITE)ON.

Whatever you may think of Newt Gingrich (and I think he is a good man), this is right on point. This nation has never been in danger of totalitarianism from the Right. It is certainly in danger of totalitarianism from the Left.

GS



FRIDAY,

April 4

, 2014




RR#1


NO COMMENT. BUSY CHECKING MY BLOOD PRESSURE.


GS


RR#2

OBAMACARE. I have predicted many times on this web-site and elsewhere that this camel, a horse designed by a a stupid and arrogant "committee", would fall of its own blunders within two to three years. Perhaps I was being too optimistic. Read this.


GS


Health insurance isn't a year-round thing anymore - Yahoo News


RR#3


IF YOU INSIST, YOU MAY SUBSTITUTE "BLOND" AND "BRUNETTE" FOR "DEMOCRAT" AND "REPUBLICAN."


GS


RR#4


"HOW TRUE, HOW TRUE".


GS


21 Aphorisms


APHORISM: A SHORT, POINTED SENTENCE THAT EXPRESSES A WISE OR CLEVER OBSERVATION OR A GENERAL TRUTH


1. The nicest thing about the future is . . .
that it always starts tomorrow.

2. Money will buy a fine dog . . ..
but only kindness will make him wag his tail.

3. If you don't have a sense of humor . . .
you probably don't have any sense at all.

4. Seat belts are not as confining . . .
as wheelchairs.

5. A good time to keep your mouth shut is . . .
when you're in deep water.

6. How come it takes so little time for a child who is afraid of the dark . . .
to become a teenager who wants to stay out all night?

7. Business conventions are important . . .
because they demonstrate how many people a company can operate without.

8. Why is it that at class reunions . . .
you feel younger than everyone else looks?

9. Scratch a cat . . .
and you will have a permanent job.

10. No one has more driving ambition than the teenage boy . . .
who wants to buy a car.

11. There are no new sins . . .
the old ones just get more publicity.

12. There are worse things than getting a call for a wrong number at 4 a.m. . .
like, it could be the right number.

13. No one ever says "It's only a game" . . .
when their team is winning.

14. I've reached the age where . . .
'happy hour' is a nap.

15. Be careful about reading the fine print . . .
there's no way you're going to like it.

16. The trouble with bucket seats is that . . .
not everybody has the same size bucket.

17. Do you realize that, in about 40 years . . .
we'll have thousands of old ladies running around with tattoos?
(And rap music will be the Golden Oldies!)

18. Money can't buy happiness . . .
but somehow it's more comfortable to cry in a Cadillac than in a Yugo.

19. After 60, if you don't wake up aching in every joint . . .
you're probably dead.

20. Always be yourself because the people that matter don't mind . . .
and the ones that mind don't matter.

21. Life isn't tied with a bow . . .
but it's still a gift.

REMEMBER....
POLITICIANS AND DIAPERS SHOULD BE CHANGED OFTEN AND FOR THE SAME REASON"


RR#5

TIME FOR ANOTHER POT POURRI: Reactions to recent headlines.
"Retirement becoming an elusive goal for Americans". If you are now living "a life of quiet desperation", don't wait for "retirement", QUIT NOW..." and begin the rest of your life. "He who loves his job never has to work a day in his life".

"Effective or not, Torture is un-American"

. Webster's definition of "torture": Infliction of intense pain especially to punish or obtain a confession". Did the methods of American interrogators rise to this level? I don't know...yet. What I do know is that we have a right to protect ourselves. And when our opponents do not fear death...but rather embrace it, traditional rules of engagement must be rewritten. For myself, I would draw the line before permanent physical injury would be a result.
"The Charter School Breakout". "Can Connecticut Afford School Choice?" No Child Left Behind". "Common Core". "Vouchers". And as always, the Teachers' lobby are squealing like stuck pigs. "Have you no shame?" No, you don't.

"America's Shrinking Navy"

. Another shooting at Fort Hood. The sclerotic military attitude to sexual harassment, to psychologic problems, to homosexuality, the multiple deployments, the new isolationism of Americans, especially of the "Me" and Millenial Generations. Folks just don't "give a damn" about their country anymore - only about themselves.

"Will the U.N. Act on its North Korea Report?" The U.N.: the longest running joke on or off TV.
Re. the tax poor status of New London, Ct. "Finizio, Hewett testify in favor of reverse PILOT bill"; "Shame on Conn. College"...and Mitchell, and L&M Hospital for fighting against fair and reasonable payments to the city in lieu of taxes by these "non-profit" corporations. Definition of "non-profit": what's left after all of the exorbitant salaries are paid".

GM Cobalt: the latest Ford Pinto.

We have always had "bulls" and "bears" on Wall Street. Now all we have is "pigs". I would send every middle and upper level executive who can be proven to have had a hand in those decisions to a medium security prison for 10 years. And I would fine the corporation 1 Billion Dollars.

"Physician Assisted Suicide"

: fatal for patients and also for the Medical Profession.

The Judiciary: why the Presidency is so important. Thank God for the Founding Fathers and for the first Chief Justice, John Marshall.
Enough for now. But I'm far from over.



GS




THURSDAY,

April 3

, 2014



ALL THIS WOULD BE FASCINATING...IF IT WERE NOT SO DANGEROUS.

GS





WEDNESDAY,

April 2

, 2014



SEEMS "FAIR AND BALANCED" TO ME, ALSO A VETERAN.

GS





TUESDAY,

April 1

, 2014







FRIDAY through MONDAY,

March 28 through 31

, 2014





THIS IS THE PAST. WHATEVER THE FUTURE HOLDS:

AVANTI!



GS




---
---
(c) Copyright 1999-2022, Allergy Associates of New London, PC