George A. Sprecace M.D., J.D., F.A.C.P. and Allergy Associates of New London, P.C.
www.asthma-drsprecace.com
---
RAPID RESPONSE (Archives)...Daily Commentary on News of the Day
This is a new section. It will offer fresh, quick reactions by myself to news and events of the day, day by day, in this rapid-fire world of ours. Of course, as in military campaigns, a rapid response in one direction may occasionally have to be followed by a "strategic withdrawal" in another direction. Charge that to "the fog of war", and to the necessary flexibility any mental or military campaign must maintain to be effective. But the mission will always be the same: common sense, based upon facts and "real politick", supported by a visceral sense of Justice and a commitment to be pro-active. That's all I promise.
GS
MONDAY and TUESDAY, April
29 and 30,
2013
NOW...IS THAT CLEAR? GS


SUNDAY
,
April 28
2013
RR#1
THE OTHER SIDE OF THE STORY ABOUT VIOLENCE AND THE MENTALLY ILL.
See also a presentation by Professor John Monahan, University of Virginia School of Law, entitled: "Mandatory vs Voluntary Mental Health Treatment To Prevent Violence"

GS

HERE ARE MY THOUGHTS ON VIOLENCE AND GUN CONTROL.
The NRA is as far out in its position as are the advocates on the Left.

Military-type assault weapons and their ammunition should be restricted to those citizens enrolled in a "well regulated militia", self-regulated by the people and not by the government.
With this interpretation of Amendment ll of the U.S. Constitution, "...the right of the people to keep and bear Arms shall not be infringed".

The matter of "background checks" before gun ownership, entirely reasonable on its face, must somehow be uncoupled from the logical but unacceptable consequence of "registration" and the also logical potential consequence of seizure by the government.

The People do not trust the government in this matter. Neither did the Founding Fathers.

The mentally ill must somehow be monitored for their possible violent propensities. The "facts" in this regard cut both ways, depending on who is providing those "facts". A review of the attached and cited sources makes that clear. The best way to do this, in addition to providing more patient access to mental health professionals, is for those professionals to be allowed or required to report situations where they believe their patient has a propensity to violence against another individual or against Society at large. Yes, that means breaching professional confidentiality...with no adverse consequences for the professional. But it would provide the filtered mechanism for the State to exercise its Police Powers reasonably. That "Duty to Warn" exists in common law and can be required by statute, as the 1976 Tarasoff case and its progeny demonstrate.
All of this is achievable by reasonable people and by a reasonable society. Do we have one any more?

GS
RR#2
THE CHURCH UNDER SIEGE. This movement may be right. Being right is necessary. But it is not sufficient when dealing with an issue as bed-rock as the Holy Eucharist, a matter of Faith or Morals. By contrast, the issues of married priests and of contraception are, in my opinion, not matters of Faith or Morals. Our new Holy Father should be given the time, and the opportunity through assertive advocacy, to decide this issue ultimately based on "Infallibility".

GS


SATURDAY,
April
27
2013
RR#1

In my opinion, then and now, the last two Popes were wrong about "Liberation Theology", opting for Church safety and "influence" over being real shepherds for the poor and oppressed. That is not "Marxism". It is Justice. It is the "Love" that Jesus commanded of us. I believe that Pope Francis will finally get it right.

GS


RR#2

ONCE AGAIN, CHARLES KRAUTHAMMER IS ABSOLUTELY RIGHT.
BUSH HATERS...CHOKE ON YOUR OWN BILE.

GS

The Bush Legacy - The Washington Post
RR#3
I AGREE. THE U.N. AND ITS APOLOGISTS IN OUR GOVERNMENT REPRESENT A
CLEAR AND PRESENT DANGER TO THIS COUNTRY.
ANOTHER EXAMPLE IS THE LAW OF THE SEA TREATY.
GS
>
> Subject: Fwd: LIST OF TRAITORS
>
>
>
> This scares me to death. Please, do not let it happen in my lifetime!
>
> Look how close we came to.selling our soul, part of our constitution to the Devil. Once we open the door to international submission and/or appeasement, you can kiss liberty goodbye and say hello to absolute tyranny! Check it out:
>
> Hello All, here is the list of all the TRAITORS in the U. S. Senate-Thank God there was none listed for OK, AR, or TX. Note that our idiot Senator from Louisiana, Mary Landrieu, voted the usual wrong-headed way.
>
>
>
> LIST OF TRAITORS
>
>
>
> Over the weekend, we came four votes away from the United States Senate giving our Constitutional rights over to the United Nations. In a 53-46 vote, the senate narrowly passed a measure that will stop the United States from entering into the United Nations Arms Trade Treaty.
>
>
>
> The Statement of Purpose from the bill read:
>
> To uphold Second Amendment rights and prevent the United States from entering into the United Nations Arms Trade Treaty. The U.N. Small Arms Treaty, which has been championed by the Obama Administration, would have effectively placed a global ban on the import and export of small firearms. The ban would have affected all private gun owners in the U.S., and had language that would have implemented an international gun registry on all private guns and ammo.
>
>
>
> Astonishingly, 46 of our United States Senators (all but one was a democrat, one was an independent) were willing to give away our Constitutional rights to a foreign power.
>
>
>
> Here are the 46 senators that voted to give your rights to the U.N.
>
> Baldwin...........(D-WI)
>
> Baucus............(D-MT)
>
> Bennet.............(D-CO)
>
> Blumenthal.....(D-CT)
>
> Boxer................(D-CA)
>
> Brown..............(D-OH)
>
> Cantwell..........(D-WA)
>
> Cardin..............(D-MD)
>
> Carper..............(D-DE)
>
> Casey..............(D-PA)
>
> Coons..............(D-DE)
>
> Cowan.............(D-MA)
>
> Durbin.............(D-IL)
>
> Feinstein.........(D-CA)
>
> Franken...........(D-MN)
>
> Gillibrand.........(D-NY)
>
> Harkin...............(D-IA)
>
> Hirono..............(D-HI)
>
> Johnson...........(D-SD)
>
> Kaine.................(D-VA)
>
> King...................(I-ME)
>
> Klobuchar........(D-MN)
>
> Landrieu....(D-LA)
>
> Leahy..................(D-VT)
>
> Levin..................(D-MI)
>
> McCaskill..........(D-MO)
>
> Menendez........(D-NJ)
>
> Merkley..............(D-OR)
>
> Mikulski.............(D-MD)
>
> Murphy..............(D-CT)
>
> Murray................(D-WA)
>
> Nelson................(D-FL)
>
> Reed...................(D-RI)
>
> Reid....................(D-NV)
>
> Rockefeller.......(D-WV)
>
> Sanders............(I-VT)
>
> Schatz...............(D-HI)
>
> Schumer...........(D-NY)
>
> Shaheen...........(D-NH)
>
> Stabenow.........(D-MI)
>
> Udall...................(D-CO)
>
> Udall..................(D-NM)
>
> Warner...............(D-VA)
>
> Warren...............(D-MA)
>
> Whitehouse.......(D-RI)
>
> Wyden.................(D-OR)
>
>
>
> People this needs to go viral. These Senators voted to let the UN take our guns. They need to be voted out of office. We have been betrayed. 46 Senators Voted to Give your 2nd Amendment Constitutional Rights to the U.N.
>
>
RR#4
PEACE. GS
RR#5
THE HOOK-UP GENERATION...AND THE "TUNED-IN GENERATION. More isolated than ever. Beware the coming epidemic of Depression.

GS


RR#6
OBAMACARE. ANOTHER SHOE DROPS...AND THE IMPACT IS BEGINNING TO BE HEARD.

GS


FRIDAY
, April
26
2013
OUR ABORTION PRESIDENT. WHAT A SHAME.

GS


THURSDAY, April
25
,
2013
GEORGE W. BUSH: A GOOD MAN, AND A GOOD PRESIDENT. His big fault was his excessive and misplaced loyalty toward losers like that H-A Donald Rumsfeld.

GS


WEDNESDAY, April
24
,
2013
BY A 15 yr. OLD SCHOOL KID
Who got an A+ for this entry
(TOTALLY AWESOME)!

Since the Pledge of Allegiance
And
The Lord's Prayer
Are not allowed in most
Public schools anymore
Because the word 'God' is mentioned.....
A kid in Arizona wrote the attached
NEW School prayer:
TUESDAY, April
23
,
2013
RR#1
Finally! A voice in the wilderness?

GS

RR#2
"Just the facts, Ma'am"


GS


RR#3
HURRAY FOR TEACHERS. BOO FOR TEACHERS' UNIONS.

GS


RR#4
OBAMACARE: ANOTHER SHOE. And see my proposals for Health Care reform in 1978 (!) and again in the 1990"s, posted on this website.

GS


RR#5

RES IPSA LOQUITUR

GS


MONDAY
,
April 22
,
2013
RANDOM THOUGHTS...for getting through life alive!
"LEAD, FOLLOW, OR GET OUT OF THE WAY". Ted Turner

Every Confidant has a Confidant. GS

There is no such thing as a "Win-Lose"...but some lawyers and business people are wedded to the stupid idea. GS

The motto of the Abruzzi: "Forte e Gentile".

The motto of the Italian People: "Si Arrangiarsi"..."We'll Work It Out".

If you need a friend...get a dog. Unknown

"Trust...but Verify". Ronald Reagan

There is no such thing as "Internet Security", the ultimate oxymoron. GS

Read Dilbert regularly. He's certainly been around.

If, when you're young, you're not a Liberal...you have no heart. If, when your older, you're not Conservative, you have no brain. The problem today is that so many people are in Maturation Arrest into their 60's. GS, etc.

Last words of an Atheist: "Thank God I died an Atheist". Unknown.

The three last words that I don't want to say to myself as I am about to die: "You Stupid Ass". GS

If you can't reason with a person on an important matter...go for the Jugular! GS

Trying to reason with an Atheist...or an Ultra-Liberal...is a total waste of time. Articulate, Arrogant, Asinine. GS

Religion - the InterState Highway - will get you there. So Will Spirituality...Route 66. GS

The prime motivating force for human behavior is INSECURITY. The only difference is how it's handled. GS

There are three kinds of money: Old Money, New Money...and ENOUGH MONEY. GS

The shortest distance between two people is a Smile. Unknown.

The first rule of Service is SURVIVAL. GS

Be careful about tying yourself to umbilical cords. Look what happened when your first one was cut. GS
Try these on for size. If they fit, wear them.
GS
SUNDAY
,
April 21
,
2013
SHEDDING LIGHT ON THE LATEST STUPID MOVE BY YOUR GOVERNMENT.
The following is from a professional in Lighting, my son Perrin, commenting on the video linked below.

GS

While the representative may be a bit dramatic in his presentation (which is often necessary for anyone onstage), I know of what he speaks. California outlawed 100W incandescents two years ago as one of its many idiotic notions of environmental protection and energy policy. If not fought, it is simply a matter of time before all bulbs of this type are outlawed. And, it's important to note that they are not outlawed like leaded gasoline because they are toxic (which CFLs are, ironically enough), but because someone in government (guess which political persuasion, by the way) simply decided that they had to go. Like all actions of these people, their misguided intentions are all that matter to them. The particulars of implementing these intentions, as well as their consequences, are never thought out.
As a lighting professional, I prefer incandescent lighting at work and at home because of the color temperature and quality of light it emits, which is literally impossible to duplicate with any other technology. It is also dimmable to the point where it uses the same or less energy than those horrible, toxic CFLs while producing a beautiful quality light that is MUCH easier on the eyes than CFLs that flicker ALMOST imperceptibly at 60x/sec.
Also, while LEDs are INFINITELY better than CFLs, their expense will drop a bit with supply increasing, but their technology makes them much harder to produce than incandescents, so they will probably never be as cheap. As for their lifespan, that is often inflated, like the number of passengers a car can fit, as well as its gas mileage. They are comprised of many individual diodes that often die out like a sports scoreboard that has had no maintenance. But, in this case, you have to throw out the entire scoreboard if you want all the bulbs to work. They also often emit a fake-looking, cold light that is hard on the eyes.
So, in the end, this congressman from Texas is absolutely correct, and with logical, mathematical, scientific precision. The Government, at any level, has no right to do what it is doing here. And, as usual, it exercises its NON-rights with exceptional inefficiency and boneheadedness.
Fight them any way you can, or you will die of a thousand little cuts.
SATURDAY,
April 20
,
2013
SOME REFLECTIONS ON THIS WEEK'S EVENTS IN THE NATION.
The Blast in West, Texas.

Whether it be this situation or prior examples including mine disasters, business interests are undermining the ability of the EPA to safeguard our citizens. And the "fracking" natural gas debate will be another opportunity for this political dynamic to play out.

The Boston Marathon Attack

. See my earlier Rapid Response. At least, politicians did not get in the way this time. I guess they were bottled up in their homes like everybody else.

The Defeat of the Gun Control Bill in the Senate.

Yes. pure Politics.

The coming Immigration Reform Bills.

More Politics...but here not only "pure", but also asinine as far as Republicans are concerned.
The common denominator here is our broken election process in this country, fed by a level of ignorance of facts and by a dearth of common sense infecting large elements of our electorate which has not seen since before the invention of the Gutenberg Printing Press. Elective offices at all levels of government are up for auction, sold to the highest bidder, with the "winner" totally beholden thereafter to the buyers. Office-holders are allowed and encouraged by the seniority systems controlling their governmental bodies to keep running and "serving" - making their own careers and the future of their families dependent on winning above all else. And recurring efforts are made to "facilitate" voting by making it easier to inject fraud into the system.
WHAT A TOXIC MIX.
Nothing less than amending the U.S. Constitution as it pertains to these issues will restore "the will of the people" and "one man, one vote"...in a word" Democracy.
Folks, "that is your mission, if you choose to accept it".

GS

FRIDAY,
April 19
,
2013
OBAMACARE: MORE SHOES.

GS


THURSDAY
, April 18
,
2013
OBAMACARE: IS THIS ANOTHER SHOE...OR A BOOT?

GS


WEDNESDAY, April 17
,
2013
MORE...

GS

Obama Care Imploding
Okay folks, I know you think the C-Span Channel that broadcasts all those Congressional hearings is boring, but, really, you should have been around to watch the Senate Finance Committee's hearing Wednesday on the Affordable Health Care Insurance Oversight.
Folks, you haven't seen so many faces of misery since you watched Les Miserables for three and a half hours...and they were all Democrats. And one of them, Senator Max Baucus, was the primary sponsor of Obamacare in the Senate!
Now, try to follow me here because this gets pretty complicated. (It seems that Nancy Pelosi was right; you DO have to pass Obamacare to find out what's in it...and the Democrats are now learning what the Republicans warned them about. It's an unworkable mess that is throwing millions of Americans off the health care rolls!)
Okay, apparently, tens of thousands of American employers began throwing workers off their health care plans and opting to pay the much lower federal fine for not offering health care for their workers. Thousands more are even now converting their full time workers to part time workers by limiting working hours per week to less than 30, in compliance with Obamacare rules. (Remember when Paul Ryan and the Republicans predicted employers would do this? Remember when Democrats were warned that employers would move to save operating expenses by moving their entire work force into federal healthcare exchanges?)
Now, these workers who have lost their health care benefits are busy trying to sign up for state health care exchanges. (There are Internet sites available if your state has agreed to sign up to Obamacare). However, when these American workers, soon to be without employee provided health care, go to the Health Exchange to sign up, they are finding they are not qualified! It seems that during the signup process, applicants are required to fill in various income and benefit data, which then flows over to IRS computers who then are to spit out what your premium costs will be and how much federal tax credits you'll receive in order to receive subsidies to help you afford health care premiums that are as much as 30% more than you were paying under your employer's plan!
Big Problem! The IRS is only allowing somewhere around 9% subsidy support for Obamacare Health care Exchange premiums that are priced so much higher than the worker was paying under his employer plan! (Surprise, Surprise! Remember Republicans warning that forcing working Americans to pay for the 30 million leaches who pay nothing for their health care under Medicaid would drive the premiums of working Americans higher?)
Second Big Problem! The IRS computers won't mate up with the Health Care Exchange computers because the IRS computer system is obsolete! So when workers try to sign up for Obamacare the IRS and the Health Exchanges are telling applicants to go to pound sand!
And so fireworks really broke out at the Finance Committee hearings on Obamacare yesterday afternoon. Senator Max Baucus, (Dem), said.."how could this happen? I'm hearing from my constituents that they and their families have been left out in the cold and are without health care because the Exchanges are not accepting them!". Quote from Senator Bill Nelson, (Dem), Florida "my constituents are not going to be happy to hear this administration failed to implement the necessary changes to accommodate health care applicants...someone has to pay for this!" Similar outrage was professed by Senator Ron Wyden (Dem) from Oregon.
Sadly, Obama Program Director for the Health care Affordability Act was on hand to lend testimony. All he could seem to do was sympathize with his Democratic buddies, saying that maybe the problems could be ironed out by the end of 2014 but could offer no ideas about how that could be done.
An Update! This morning a Harvard economics professor came on CNBC and announced that, according to a federal study his group just completed, the Health and Human Services Secretary, Kathleen Sebelius, is going to be forced to come back to this same committee, hat in hand, and request $700 billion dollars more be allocated to Obamacare just to pay for those automatically covered under current federal programs.
Also, sadly, the Wall Street Journal reported that, in addition to the 30 million Americans not currently covered under Obamacare, we can expect tens of millions more who will be left in the "no health care Twilight Zone"; those who were doing just fine with their employee health care plan until Obamacare was implemented this year. And many of those who were working 40 hour weeks will find themselves deemed "part time employees" working less than 30 hours per week and unable to afford Obama's premiums even if they could get through the application process.
And, as usual, while the working poor and the rapidly declining middle class will be out in the cold without any health care, the Medicaid/Welfare leaches have no worry. They are covered by that $700 billion dollar pot of gold that Kathleen Sebelius, Secretary of Health and Human Services will be demanding from Congress soon!
Sad. Doggone sad.
SUNDAY through TUESDAY, April 14 through
16
,
2013
THE BOSTON TERRORIST ATTACK...

Here is a real challenge for "Rapid Response...Daily Commentary on News of the Day."
What to do? What you don't do is call it a "terrorist attack" until there is some evidence of
that...like ball bearings or other shrapnel in the IED. Then you call it a" terrorist attack".
What you don't do is run away from it in terror, but run towards it in an effort to help the
fallen and to catch any suspects. "IF YOU SEE SOMETHING, DO SOMETHING".
What you don't do is to go into a diffuse rage; rather FOCUS on the threat that has been
with us for over 20 years. Clear the mind. Demand action from our leaders. And be ready
to act on your own initiative.
This development will certainly impact the current debate on guns. I believe that we will
get no Federal legislation on gun control this year as a result. I believe that we will have
many more new gun owners - not a bad thing. And I hope that "moderate Muslims",
hopefully not an oxymoron, will clean their own house of their minority Fundamentalist crazies.
Or the rest of us will "pick up the usual suspects"...including themselves.
We have a right and an obligation to defend ourselves. And we will do that.

GS

SATURDAY
,
April 13
,
2013
Ultra-liberals are VERY NASTY PEOPLE...and the most totalitarian. America has never been threatened from the Right, only from the Left.

GS

FRIDAY
,
April 12
,
2013
What I've been saying for a very long time, in less colorfull language. "Birds of a feather...."

GS

THURSDAY,
April 11
,
2013
"STOP THE WORLD. I WANT TO GET OFF".

GS


WEDNESDAY,
April 10
,
2013
NOW, DOESN'T THAT MAKE YOU FEEL WARM AND FUZZY?

GS


LOOK WHO IS RUNNING THE WHITE HOUSE SHOW !

WAKE UP AMERICA!

It is astounding to me that no one seems to care! No mainstream media, obviously, either!
Just a nice little Christian guy in the White House…REALLY?
Friday, March 1, 2013, 12:23 PM
This needs to be passed around.
Do we the common US citizen know this?
More to the point, do those who voted for him know this, or do they still have their head in the sand?
Why couldn't we find qualified men who were 'born in America' to help make decisions for our country?

(Obviously, "we" didn't have anything to say about it.)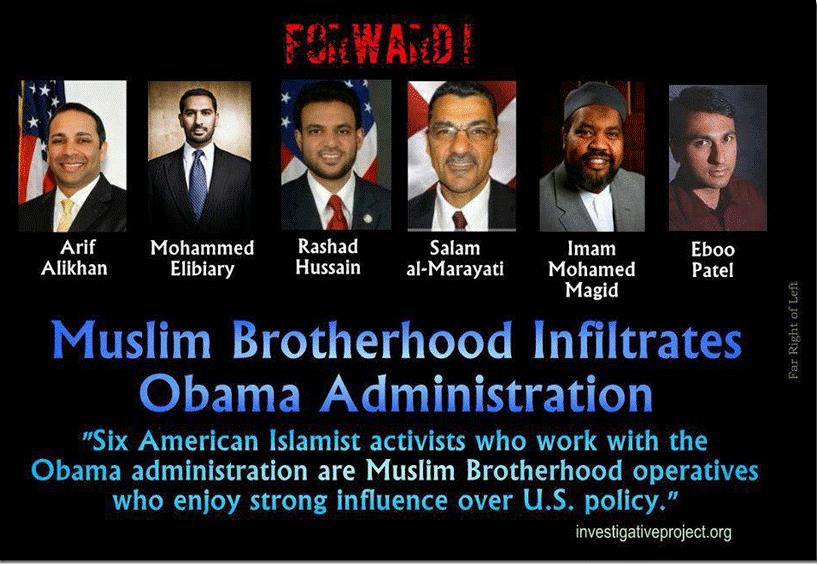 Arif Alikhan - Assistant Secretary for Policy Development for the U.S. Department of Homeland Security
Mohammed Elibiary - Homeland Security Adviser
Rashad Hussain - Special Envoy to the (OIC) Organization of the Islamic Conference
Salam al-Marayati - Obama Adviser - founder Muslim Public Affairs Council and its current executive director
Imam Mohamed Magid - Obama's Sharia Czar - Islamic Society of North America-Islamic Society of North America
Eboo Patel - Advisory Council on Faith-Based Neighborhood Partnerships

Anybody feel safer now that these folks are helping influence U.S. POLICY.

? ? ? ? ? ? ? ? ? ? ? ? ? ? ? ? ? ? ?


TUESDAY,
April 9
,
2013
HERE'S ONE TEACHER TO WHOM I WOULD GIVE A GRADE OF "A".
AND I'M A TOUGH GRADER OF TEACHERS. GS


MONDAY,
April 8
,
2013
A GREAT DESCRIPTION OF A TERRIBLE SITUATION.
WHO LET IT HAPPEN?
"IN A DEMOCRACY, THE PEOPLE ALWAYS GET WHAT THEY DESERVE".

GS


SUNDAY,
April 7
,
2013
"IT'S THE ECONOMY, STUPID".
True words, despite their origin.
Now is Obama sincere in trying to "trend toward the middle" with his recent budget proposals?
Or is this a sucker punch to a Republican Party already reeling on the ropes?

In any case, "this is your life". And I suggest three very good sources for the non-economist to
get insight into where we've all been and to where we may be going. Please check them out.
"A Statesman's Friendly Advice", by Peggy Noonan, in WSJ Sat.-Sun. April 6-7, 2013, Opinion, pA13.

"How Texas Became Texas and Why It Matters", by Bryan Burrough, , NYTimes Saturday April 6, 2013.

"The Great Deformation: the corruption of Capitalism in America", by David Stockman, published by Public Affairs, of the Perseus Books Group, 2013.
Regarding this last offering, it is a book of over 700 pages. So, be careful: don't get Carpal Tunnel Syndrome.

GS




SATURDAY,

April 6

,

2013



THE STATUS OF ABORTION WRONGS. "WHAT IS IT ABOUT THE WORD 'NO' THAT YOU DON'T UNDERSTAND?

GS





FRIDAY,

April 5

,

2013



STUPIDO, STUPIDO, STUPIDO!

GS





THURSDAY,

April 4

,

2013



COULD THIS BE A TRUE "WIN-WIN" SITUATION? I HOPE!

GS





WEDNESDAY,

April 3

,

2013





RR#1



ANOTHER SHOE FALLS FROM THE OBAMACARE CENTIPEDE.

GS




RR#2





JUST SO YOU KNOW.

A LOT OF BAD PEOPLE OUT THERE.
HUMAN LIFE BEGINS AT CONCEPTION. DEAL WITH IT.

GS






TUESDAY

, April 2

,

2013





RR#1



BITTER FOOD FOR THOUGHT.

GS




RR#2



Lest we forget.

GS




MONDAY, April

1

,

2013





RR#1



AND ESPECIALLY FOR PHYSICIANS, THIS MUST BE A "NEVER EVENT".

GS




RR#2



A cautionary tale for the entire world.

GS




RR#3



Another shoe dropping from the ObamaCare centipede.

GS





SUNDAY,

March 31

,

2013



THERESE, THIS ONE'S FOR YOU. HAPPY EASTER.

YOUR PAL


This is a recording of Pope John Paul II singing Schubert"s Ave Maria in 1976. Life on the Rock from EWTN has added the pictures in this video. I did not realize he had such a powerful voice.

Pope John Paul II singing Ave Maria (1976)

http://www.youtube.com/watch?v=Ou3o7oE2vyc





---
---
(c) Copyright 1999-2023 Allergy Associates of New London, PC