George A. Sprecace M.D., J.D., F.A.C.P. and Allergy Associates of New London, P.C.
www.asthma-drsprecace.com
---
RAPID RESPONSE (Archives)...Daily Commentary on News of the Day

This is a new section. It will offer fresh, quick reactions by myself to news and events of the day, day by day, in this rapid-fire world of ours. Of course, as in military campaigns, a rapid response in one direction may occasionally have to be followed by a "strategic withdrawal" in another direction. Charge that to "the fog of war", and to the necessary flexibility any mental or military campaign must maintain to be effective. But the mission will always be the same: common sense, based upon facts and "real politick", supported by a visceral sense of Justice and a commitment to be pro-active. That's all I promise.
GS

MONDAY through SATURDAY, FEBRUARY 23 through 28

,

2009

"Res Ipsa Loquitur"...the thing speaks for itself. GS



==================================================
ZENIT, The world seen from Rome
News Agency
==================================================

2009 Culture of Life Movie Awards
Winners Include Juno and Bella

MADRID, Spain, FEB. 25, 2009 (Zenit.org).- This is the week for movie awards,
and the results are out for the best picture, actors and screenplay, from the
perspective of a culture of life.

The Madrid archdiocesan weekly magazine, Alpha and Omega, distributed by the
newspaper ABC, gives special awards for the production of major films in defense
of life.

The Alpha and Omega awards highlighted five pro-life films released in 2008,
four related to abortion and one to euthanasia: "Juno";
"Bella"; "4 months, 3 weeks and 2 days"; "The Diving
Bell and the Butterfly"; "The Princess of Nebraska."

The magazine director, Miguel Angel Velasco, said: "Given the tendency to
reward movies that represent the 'culture of death', [we] wanted to
reward others that, in one way or another, defend the 'culture of
life.'"

The awards announcement stated: "At a time when the dignity of the weakest
human beings is trampled with impunity by politicians and legislators of
numerous civilized countries, movies seem to emerge that run against the
current, celebrating the positive value of life, even in circumstances of
extreme pain."

It continued: "And these are not militant, discursive or reactionary
films, nor are they directed by pro-life leaders. They are heartfelt and
poignant human stories that give testimony of the simple joy of living."

International issues

The statement also commented on movies such as "Oh, Jerusalem" and
"The Kite Runner" that give a "hopeful look at the most worrisome
international conflicts" and treat the issues "with
intelligence," with the goal of uniting people rather than dividing them.

Similarly, judges considered that movies such as "In the Valley of
Elah" give a critique on the new forms of war and military intervention,
separated from moral codes. Other movies, such as "The Wave," can
alert us to populist and authoritarian temptations that can easily flourish in
countries facing a moral, economic and cultural crisis."

Juan Orellana, film critic and one of the judges for the awards, says that,
these movies "confirm the good health of the American independent cinema,
the German cinema and animated film."

Orellana pointed out that there is now an exciting mix of family films. In
2008, he explained, several films defended novel and original forms of life and
there are others -- like "The Diving Bell and the Butterfly" -- that
have managed to grasp "the gravity of the historical moment" in which
we find ourselves, and offer a response of hope and transcendence.

The film awarded best Christian picture to "Guadalupe," a family
drama that shows the power of the image of the Virgin Mary. A scientific study
of the image becomes a journey of personal discovery for a family that must
confront its past.

Great works

Auxiliary Bishop César Franco of Madrid, who chaired the judges committee,
lauded the good movies as "works of the human spirit that address the human
question."

He continued: "There are two ways to make movies, just like there are two
ways to live:" one "open to the values of the individual," and
the other closed. Man will always do great works in all fields, and humanity
will bear fruit in works of art, he said -- "man is called to beauty."

The prelate stated that viewing movies can be "a catharsis" that
brings a person "to the depths of human beauty."

Other winners of the 2009 Alpha and Omega awards are:

Best Film, Best Screenplay: "Juno," director Jason Reitman and
screenplay writer Diablo Cody
Best Film, Best Director for Life: "The Diving Bell and the
Butterfly," Julian Schnabel

Best Leading Actor: Tommy Lee Jones, "In the Valley of Elah"
Best Supporting Actor: Ciarán Hinds, "Miss Pettigrew Lives for a
Day"
Best Leading Actress: Tammy Blanchard, "Bella"
Best Supporting Actress: Patricia Clarkson, "Lars and the Real Girl"

Best Cinematography: Sergey Trofimov and Rogier Stoffers, "Mongol"
Best Film With Christian Theme: "Guadalupe," director Santiago Parra
Best Soundtrack: Alberto Iglesias, "The Kite Runner"

Best Family Film: "Horton Hears a Who!," directors Jimmy Hayward and
Steve Martino
Best Historical Drama: "O, Jerusalem," directed by Chris Kraus

Best Educational Film: "The Wave," director Dennis Gansel
Best Animated Film: "Wall-E," director Andrew Stanton




SATURDAY and SUNDAY, FEBRUARY 21 and 22

,

2009


A surprisingly fertile week of news...short and sweet - and otherwise. Remember, there are three kinds of people: those who make things happen; those who watch things happen; and those who are constantly exclaiming "WHA HOPPEN".
In late December, 2008, several watchdog agencies forced

financial gurus

Paulson, Bernanke and Cox to admit that they did not know what was happening with the first $700 Billion bailout fund directed to banks...and had no way of tracking the use of those funds. After acknowledging that the effort was a failure, are the new gurus in any better position to track the new and highly touted $800 Billion "stimulus package" ...which nobody in Congress or the Senate read? I don't think so, and neither do they.

And these are the people who are going to tackle

Health Care delivery

in this country. See my earlier Rapid Response this week on the subject.

An article in the NYTimes today points to the travails of Japan over the last two decades as a cautionary tale of what happens when a great consumer

society - like the U.S. also - stops consuming. Wrong lesson. We must change from a consumer to a producer society, as in days of old. And we still have the manufacturing and innovation base to do it. (See the article in The Day today entitled "Does U.S. Still Make Anything?",

pE1). Yes, we do...the most in the entire world. But we must increase our productivity, including having salaries that reflect productivity rather than managerial and union wish lists - as in the auto industry.

Change of pace. In

Sports news,

this is pretzel (aka wrestling) season. These guys should be required to wear full-length leotards of different colors to help us spectators know which limbs belong to which person. And then there is the Sports Illustrated Swimsuit Edition that I just received as part of my ongoing subscription. A turn-off, for three reasons: 1) some of those girls appeared to be below the age of 18, or even 16; 2) they need to gain 30 pounds in weight and to get rid of those stupid pouting expressions; 3) they all need a spanking. And no, I'm not dead.

Hillary Clinton,

my choice on the Democratic side, is starting to demonstrate why she would have been the better Democratic choice for President. Meanwhile, I keep getting vertigo watching

Obama

bobble his head from one teleprompter to the other - and never looking directly at me. And then he is tongue-tied when forced to speak off-the-cuff. Not a stimulus for trust.

Face-Book; My Space, etc.

One cartoon hit the nail on the head: "

Terms of

Service: You

agree to waste precious and valuable time searching for new

friends and also boring the daylights out of the friends you currently have with the most mundane details of your sad, sad life".

GET A LIFE, YOU LEMMINGS.

The NYTimes today

has surprisingly outdone itself, providing actually useful articles on several important issues. See its articles, in the Week in Review, on

School Reform,

on a suggested reconciliation on Gay Marriage, on

how to end the Culture Wars,

and on how to help in the

economic crisis

("let creative destruction happen"). Add that to yesterday's article by David Brooks on the same latter subject - and echoing my offering the day before in this section - and all in all not a bad week.

Finally and locally, the continuing soap opera of

Preston, Ct. and the old Norwich Hospital property, chronicled well in the Day (www.theday.com). Please complete the following suggestion: GO, OR...

GS




FRIDAY, FEBRUARY 20

,

2009



This is regarding the current world economic crisis, and about what little I can understand of it as of February 20, 2009.




There was a time, years ago, when I thought that - except in the areas of Clinical Medicine and Common Sense - "the other guy knew more about what what he was doing than I knew about what he was doing." Very naive and too often wrong, especially at this time and regarding this subject. The comment I recently heard that was the most useful was:

"Wall Street runs on greed, and on fear". Put another way, it runs on Human Nature.

And therein lies an understanding of the current economic crisis. Greed has led to fear, which has led to a deep distrust, both in the level of our confidence that anybody knows what is going on, and in the trustworthiness of even our close neighbors. Consider the following statement by one of the greatest economists of our time: "We have involved ourselves in a colossal muddle, having blundered in the control of a delicate machine, the working of which we do not understand." That statement was made in December, 1930 by none other than John Maynard Keynes It is just as true today.

Now fast-forward to Friday of this week, when Paul Volcker noted that "the economy may be deteriorating even faster than it did during the Great Depression". That is a function of cyberspace and a much more integrated world economy, not a difference in the basic dynamics: greed, fear and human nature.

But there is another element of human nature that is at work now. It is resentment approaching rage that this time there are clear culprits, great and small, that are not being called to account and punished for their acts of commission and omission. Those are emotions even stronger than fear which, if not allowed to resolve, will tear both the local and world societies apart. In other words, WHERE IS JUSTICE? Even Bernie Madoff, that poster-child for this debacle with his Mona Lisa expression, gets to continue to live high on the hog instead of in the Tombs of New York City.


It is like a festering wound which requires debridement and not the current facile suturing together...an absolute prescription for severe sepsis throughout the organism. Criminals and the greedy must be punished. The amoral and simply stupid must be allowed to fail. And this must all be totally transparent and effective. Only then will the resentment and rage felt by the common man in this mess devolve into simple fear, which can be dealt with by a courageous people. Only then can trust again become the coin of the realm on which society intrinsically depends. Only then will we all change from defense to offense in this challenge of the generation. But that is not the plan currently being offered by our clueless leaders. Will we survive them? I don't know.


GS




MONDAY through THURSDAY, FEBRUARY 16 through 19

,

2009

Amorality, thy name is becoming America. Thanks to the studied "value neutral" public education system pursued over the last 40 years, one of so many failures of our "educators", we now have adults and children who don't have a clue about right and wrong. A-Rod and his ilk, Raymond Burris, Wall Street, kids who routinely cheat in class, kids who don't think that the steroid users did anything wrong.... See the rrecent Daily News cartoon advising Rodriguez to "TRY TRUTH SERUM NEXT". Meanwhile, craven politicians throughout the country, most recently in Florida, and their stupid supporters continue to block any efforts at Choice in Education. See "A Charter Setback in Florida", WSJ Editorial, Wednesday Jan 7, 2009. See also the recent article by Nicholas Kristof entitled "Our Greatest National Shame". (NYTimes Sunday, Feb, 15, 2009). Here the author is rightly referring to Public Education...but he wrongly considers the "stimulus package", with yet more massive money thrown into that massive sink-hole, to be the solution. The only solution will be when our poorest families, totally dependent on that system, begin to demand that their Democratic Party, a wholly - owned subsidiary of the Teachers' Unions, legislates Choice and Vouchers and teacher accountability...initially and throughout their teaching careers.
But we have been waiting a generation or two for this, while the Black community especially has been poorly led by victimologists blaming Racism for everything: contempt for education; impregnating and leaving girls to fend for themselves, resulting in over 60% of Black households without a father; ignoring or condoning the criminality that fills our prisons and pollutes our neighborhoods; and more. And now comes Eric Holder, the new U.S. Attorney General, a Black I'm told, who seems to see Racism under every rock and who calls average Americans "cowards" for not seeing what he does. This is Reverse Racism, perpetrated on non-Blacks by some Blacks. Mr. Holder, why don't you try instead leading your self-identified community to the promised land of a color-blind America...where the vast majority of Americans reside. Wouldn't that be a breath of fresh air.
And now to the greatest preoccupation of the new Administration after the Economy: "Health Care Reform". Here, the best we can hope for is efforts at the margins of what really needs to be discussed and resolved; electronic health records, the least important but the most and most easily discussed; too much health care, a veritable buffet requiring priorities and rationing of needs vs wants; forced mediation of malpractice disputes instead of litigation...a lose-lose exercise for everyone except the lawyers; promote heavily Health Savings Accounts, thereby finally including the demanding/needing patient in the decision-making process, instead of systematically undermining that vital option; bring abusive managed care organizations to heel; emphasize patient responsibility, while half of Americans' illnesses are directly life-style related; emphasize and pay for coordination of care, whether by the primary care physician or by a caring specialist; promote and encourage the activities of "physician extenders", under the direct supervision of physicians; and reach out to physicians and other health care providers for a partnership in the process...instead of reaching out with the stick for the favorite pinata. And wouldn't that be a breath of fresh air. Meanwhile, don't hold your breath.
GS




TUESDAY through SUNDAY, FEBRUARY 10 through 15

,

2009

OH NO!! NOT THE CARTER YEARS AGAIN. I'm starting to feel sorry for President Obama. First, half of his Cabinet-designates are AWOL. Then he has to take as his own an 1,100 page Valentine's gift from Nancy Pelosi that no one has read...totallying $780 Billion, and with just three deluded Republicans to share the blame. And now "Senator" Roland Burris, the latest escapee from the Great State of Illinois has admitted that he lied to the U.S.Senate in his effort to get seated. See the article that follows for the gory details. Obama's first 100 days have turned out to be Purgatory. The only question is whether the remainder of his term will be Heaven or Hell. He will need all the help he can get from the Almighty. Suggestion: come to your non-political senses and become anti-Abortion. GS



Illinois GOP leader calls on Sen. Burris to resign

By RUPA SHENOY, Associated Press Writer

CHICAGO – Just as Illinois was moving past the agony and embarrassment of former Gov. Rod Blagojevich's ousting, the fellow Democrat whom Blagojevich appointed to the U.S. Senate was hearing calls for his own resignation Sunday amid allegations he lied to legislators.

Freshman Sen. Roland Burris released an affidavit on Saturday that contradicts his statements last month to a House committee investigating Blagojevich's impeachment.

"I can't believe anything that comes out of Mr. Burris at this point," Rep. Jim Durkin, the impeachment committee's ranking Republican, said at a news conference Sunday. "I think it would be in the best interest of the state if he resigned because I don't think the state can stand this anymore."


But an adamant and sometimes emotional Burris told reporters in Chicago later Sunday that he hadn't done anything wrong and never misled anyone.

"I've always conducted myself with honor and integrity," he said. "At no time did I ever make any inconsistent statement."

Gov. Pat Quinn, who advanced to the governor's mansion after Blagojevich was ousted over corruption allegations last month, also called on Burris to explain the contradiction.

"My opinion is that he owes the people of Illinois a complete explanation," Quinn said, according to spokesman Bob Reed.

Durkin and House Republican Leader Tom Cross also want an investigation of Burris for possible perjury.

It's not clear what action state legislators could now take against Burris, said Dawn Clark Netsch, a Northwestern University law professor and former Illinois Comptroller.

"I'm not aware that anything quite like this has happened in any state before," she said.

Based on federal law, the state Senate could argue that Burris was a temporary appointment, then pass a bill calling for a special election to name a permanent senator, Netsch said.

But Quinn's hands may be tied.

"I don't see anything that the current governor could do, except to ask for legislation to ask for a special election," Netsch said.

Saturday's disclosure by Burris reflects a major omission from his testimony in January when an Illinois House impeachment committee specifically asked if he had ever spoken to Robert Blagojevich or other aides to the now-deposed governor about the seat vacated by President Barack Obama.

U.S. Senate Majority Leader Harry Reid said Saturday he was reviewing the disclosure, the latest twist for Democrats who only consented to seat Burris on the belief that there was no chance of "pay for play" politics surrounding his appointment.

But Burris explained Sunday that he voluntarily gave the committee a Feb. 4 affidavit disclosing the contact with Robert Blagojevich because questioning during his January testimony abruptly changed course and he never got a chance to answer a direct question about Blagojevich's brother.

The affidavit, released Saturday by Burris' office after it was first reported by the Chicago Sun-Times, said Robert Blagojevich called him three times — once in October and twice after the November election — to seek his fundraising assistance.

Robert Blagojevich's attorney has said his client believes one of the conversations was recorded by the FBI.

Burris said Saturday he told Robert Blagojevich he would not raise money because it would look like he was trying to win favor from the governor for his appointment. But he said he did ask the governor's brother "what was going on with the selection of a successor" to Obama in the Senate and "he said he had heard my name mentioned in the discussions."

On Sunday, Burris added: "I did not donate one single dollar nor did I raise any money or promise favors of any kind to the governor."






MONDAY, FEBRUARY 9

,

2009

YOU COULD HAVE HEARD A PIN DROP...



>

> When in England, at a fairly large

> conference, Condi Rice was asked by

> the Archbishop of Canterbury if our plans

> for Iraq were just an example

> of empire building' by George Bush.She

> answered by saying, 'Over the years, the

> United States has sent many of its fine

> young men and women into great

> peril to fight for freedom beyond our

> borders. The only amount of land we

> have ever asked for in retur n is enough to

> bury those that did not return.'

>

> You could have heard a pin drop.

>

> ~~~~~~~~~~~~~~~~~~~~~~~~~~~~~~~~~~

> There was a conference in France where a

> number of international engineers

> were taking part, including French and

> American. During a break, one of the

> French engineers came back into the room

> saying 'Have you heard the latest

> dumb stunt Bush has done? He has sent an

> aircraft carrier to Indonesia to help

> the tsunami victims. What does he intended

> to do, bomb them?'

> A Boeing engineer stood up and replied

> quietly: 'Our carriers have three hospitals

> on board that can treat several hundred

> people; they are nuclear powered and

> can supply emergency electrical power to

> shore facilities; they have three cafeterias

> with the capacity to feed 3,000 people

> three meals a day, they can produce several

> thousand gallons of fresh water from sea

> water each day, and they carry half a

> dozen helicopters for use in transporting

> victims and injured to and from their flight

> deck. We have eleven such ships; how many

> does France have?'

>

> You could have heard a pin drop.

>

> ~~~~~~~~~~~~~~~~~~~~~~~~~~~~~~~~~~

> A U.S. Navy Admiral was attending a naval

> conference that included Admirals

> from the U.S. , English, Canadian,

> Australian and French Navies. At a cocktail

> reception, he found himself standing with

> large group of Officers that included

> personnel from most of those countries.

> Everyone was chatting away in Engli sh

> as they sipped their drinks but a French

> admiral suddenly complained that,

> whereas Europeans learn many languages,

> Americans learn only English.' He then

> asked, 'Why is it that we always have

> to speak English in these conferences rather

> than speaking French?' Without

> hesitating, the American Admiral replied 'Maybe

> it's because the Brits, Canadians,

> Aussies and Americans arranged it so you

> wouldn't have to speak German.'

>

> You could have heard a pin drop.

>

>

> ~~~~~~~~~~~~~~~~~~~~~~~~~~~~~~~~~~

> AND THIS STORY FITS RIGHT IN WITH THE

> ABOVE...

> Robert Whiting, an elderly gentleman of 83,

> arrived in Paris by plane. At French Customs,

> he took a few minutes to locate his

> passport in his carry on. 'You have been to France

> before, monsieur? ' the customs officer

> asked sarcastically. Mr. Whiting admitted

> that he had been to France previously. Then

> you should know enough to have your

> passport ready.' The American said,

> ''The last time I was here, I didn't have to

> show it. 'Impossible. Americans always

> have to show your passports on arrival in

> France !' The American senior gave the

> Frenchman a long hard look. Then he quietly

> explained, ''Well, when I came

> ashore at Omaha Beach on D-Day in 1944 to help

> liberate this country, I couldn't find

> a single Frenchmen to show a passport to.'

> You could have heard a pin drop.

>





SUNDAY, FEBRUARY 8

,

2009



Today is one of those Pot Pourri days.
Afghanistan is increasingly in the news, including today's NYTimes (pA1). What do we want from President Hamid Karzai? He is at the head of a democratically elected government beset with al Qaida, Taliban, a tribal culture, a cancerous opium trade and a neighbor (Pakistan) that will not close its borders to terrorists of many stripes. And the man is trying to stay alive. So, what should America do there? Seek out and destroy al Qaida and Taliban terrorists, going cross-border in hot pursuit if necessary, negotiate with moderate Taliban (?) and tribal leaders while rebuilding the country, destroy the opium crop with fair conpensation to the farmers - and to no one else in the pipeline, all the while giving the leaders of Afghanistan and Pakistan plausible deniability while they rant and rave against us. Just get the job done. If we're successful, we'll have plenty of friends then.
Iraq. Probably "as good as it gets": a fairly stable and secure democratic country led by a man who has demonstrated the "cogliones" (sp.?) to get the job done. Now, is this administration similarly endowed? Or will we snatch defeat from the jaws of victory?
Iran. As usual, we are being played for suckers there - by the best liars in the world. We had better keep them out of Iraq and out of having a nuclear weapon...Or Israel will show us the way - and will explode the entire Middle East in the process.
Israel. The coming national elections will tell us something. But for a people who measure their history in millennia, don't expect any breakthroughs soon. Senator Mitchell please take note.
Turkey. Now there's a vital nation that "don't get no respect" from us and the West. Why is that? Yes, they have their problems between the seculars and the religious Muslims. But we could and should do more to strengthen the seculars to keep control of the country, which has long wanted to allign itself with the West.
Ah yes, The West. It turns out that that the least dependable of that group are France and Germany...the embodiment of the statement: Nations don't have friends; they have interests. Vice President Biden, please take note as you attempt to curry favor among them.
Russia. Well, it's Russia. what else can I say that I have not already said. They are Orientals, not Occidentals - and they understand only power.
Domestically, even Frank Rich and Maureen Dowd are starting to worry about the new President (NYTimes today). Given my comment posted yesterday, they are in my company...but from the other pole of the political spectrum.
Bernie Madoff made off with $50 Billion of other people's money, and not all of them millionaires or billionaires. So, is he going to be allowed to die a natural death in his penthouse apartment before Justice is done? That is not what "blind" is supposed to mean.
On a related subject, today's NYTimes has an article on "Plan B" for those who have retired or who intend to retire...after the Wall Street meltdown. My advice for "Plan B": DON'T RETIRE. Or you'll be sorry. Instead, keep adding skills and interests to your market basket as you go through life. Maybe career change; maybe slowing down. But DON'T RETIRE!
The world is again all atwitter with the alleged news regarding Alex Rodriguez and steroid use. For the Sports World: what hypocrites you are for not dealing effectively once and for all with steroid use in all sports. For the rest of you celebrity junkies, here's the fact: we're all human, regardless of the fancy clothes and plastic surgery...and how much skin we show. And for you, Alex: If you did it, stupid but not fatal - until you lied about it. That's the professionally fatal part, and you would deserve it. I'm reserving judgment until all of the facts are out.
The Public Education gang is at it again, looking for yet more money to suppport a failed and discredited endeavor. "HAVE YOU NO SHAME....?"
Finally, let's get real domestic: New London, Ct. Remember the TV series, "Peyton Place"? That's our delightful city, a garden spot of the world...in constant need of weeding. Real people, real predicaments; and they let it all hang out. How refreshing, especially to those of us carpetbaggers who have been here 46 years...and counting. And that brings us to The Day (www.theday.com), our local newspaper. Fine newspaper, always getting awards including just this past week from the New England Press Association. But now it too seems to be having financial problems, paring staff, size and coverage. Now lookie here! If you can't find enough news in this community, aided by the investigative reporting that you do too little of, you deserve to fail. You ought to be syndicating the news of New London; it's real and titilating enough. Also, don't cannibalize the paper into a mediocrity. You have an endowment. If it is not producing enougn interest and dividends, reach into the Corpus to get you over this rough spot. All beneficiaries of endowments, large and small, are in the same uncharted waters - and the Donor intent was not to provide his money for failure. Above all, be truth-tellers in a world where the people have no other source of truth: not the government; not the other media; not the Internet. And we can't wait twenty years for History to tell us "wha' hoppen". "That is your mission, if you choose to accept it".
GS




THURSDAY through SATURDAY, FEBRUARY 5 through 7

,

2009



As you can see by reading my offerings from early January, I have been more hopeful than concerned about the prospects of leadership from President Obama.

Now the reverse is true.
To have been elected in a pervasive fog of national self-hypnosis was not reassuring in the first place. This, in spite of a public persona that began with Elmer Gantry on Prozak and progressed to the Manchurian Candidate. This also for a man who had only a half-dozen years of non-descript public life before his coronation.
Then came a series of blunders in the selection of Cabinet members and close advisers, most recently including the admission of his selection to head the CIA (Leon Panetta, with absolutely no CIA or Intelligence experience) that he had been wrong to accuse the Bush administration of transferring people to other countries for purposes of torture.
Then came half-hearted efforts at "bi-partisanship" regarding the "stimulus package" while taking dictation from the far left crazies led by Nancy Pelosi.
Then came breathless declarations of imminent "catastrophe" and similar hyperbole if Congress did not pass this second pig-in-a-poke immediately. What happened to: "We have nothing to fear but fear itself"?
Then came his tongue-lashing of Republicans everywhere, accusing them of "playing politics" as they were engaged in truth-telling regarding that proposed legislation. He even alleged that he had a mandate to do this. Nonsense.
So, forget about bi-partisanship and "change" in Washington, except for massive efforts to change both the economics and the mores of American society. President Obama has cooked his goose.

Meanwhile, who will tap the inherent strength of the American people? There are many tens of millions of citizens still working and paying their bills out there. We all have and have had neighbors and family members - and even honest strangers - who have fallen on hard times in the past and whom we helped...because it was the right thing to do. The truism that "Americans are the most generous people in the world" is True. So let's help, as committees of one, or ten, or hundreds... help each other out of this mess. There will be time for investigating and passing judgment on the causes of our troubles. Meanwhile, Washington can only be depended on to make it worse, if we let it. Contact your representatives and senators with this message: "You obviously can't lead...so follow, or get out of the way!"


GS




MONDAY through WEDNESDAY, FEBRUARY 1 through 4

,

2009

Great. And guess what! I checked this e-mail just as I was about to go to bed...and then I remembered that PBS had just started showing this year's Mark Twain Award - to George Carlin. What a blast. Laugh and cry. Hurray for you, George. I may have given you a detention at Cardinal Hayes High School in the late '40's. But "nothing personal". GS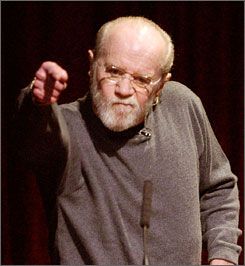 George Carlin on age102.

(Absolutely Brilliant)

IF YOU DON'T READ THIS TO THE VERY END, YOU HAVE LOST A DAY IN YOUR LIFE. AND WHEN YOU HAVE FINISHED, DO AS I AM DOING AND SEND IT ON.

George Carlin's Views on Ageing

Do you realise that the only time in our lives when we like to get old is when we're kids? If you're less than 10 years old, you're so excited about ageing that you think in fractions.

'How old are you?' 'I'm four and a half!' You're never thirty-six and a half. You're four and a half, going on five! That's the key

You get into your teens, now they can't hold you back. You jump to the next number, or even a few ahead.

'How old are you?' 'I'm gonna be 16!' You could be 13, but hey, you're gonna be 16! And then the greatest day of your life .... . You become 21. Even the words sound like a ceremony. YOU BECOME 21. YESSSS!!!

But then you turn 30. Oooohh, what happened there? Makes you sound like bad milk! He TURNED; we had to throw him out. There's no fun now, you're Just a sour-dumpling. What's wrong? What's changed?

You BECOME 21, you TURN 30, then you're PUSHING 40. Whoa! Put on the brakes, it's all slipping away. Before you know it, you REACH 50 and your dreams are gone.

But wait!!! You MAKE it to 60. You didn't think you would!

So you BECOME 21, TURN 30, PUSH 40, REACH 50 and MAKE it to 60.

You've built up so much speed that you HIT 70! After that it's a day-by-day thing; you HIT Wednesday!

You get into your 80's and every day is a complete cycle; you HIT lunch; you TURN 4:30 ; you REACH bedtime. And it doesn't end there Into the 90s, you start going backwards; 'I Was JUST 92.'

Then a strange thing happens. If you make it over 100, you become a little kid again. 'I'm 100 and a half!'

May you all make it to a healthy 100 and a half!!

HOW TO STAY YOUNG:

1 Throw out nonessential numbers. This includes age, weight and height. Let the doctors worry about them. That is why you pay 'them'

2. Keep only cheerful friends. The grouches pull you down.

3. Keep learning. Learn more about the computer, crafts, gardening, whatever. Never let the brain id le. 'An idle mind is the devil's workshop.' And the devil's name is Alzheimer's.
4 Enjoy the simple things.

5. Laugh often, long and loud. Laugh until you gasp for breath.

6. The tears happen. Endure, grieve, and move on. The only person, who is with us our entire life, is ourselves. Be ALIVE while you are alive.

7. Surround yourself with what you love , whether it's family, pets , keepsakes, music, plants, hobbies, whatever. Your home is your refuge.

8. Cherish your health: If it is good, preserve it. If it is unstable, improve it. If it is beyond what you can improve, get help.

9. Don't take guilt trips. Take a trip to the mall, even to the next county; to a foreign country but NOT to where the guilt is.

10. Tell the people you love that you love them, at every opportunity.


AND ALWAYS REMEMBER :

Life is not measured by the number of breaths we take, but by the moments that take our breath away.




SUNDAY, JANUARY 31

,

2008

Now, for those of you who think all this stuff is too heavy.... And check out the section on my web site entitled "A Bit of Whimsey". GS

"It is generally inadvisable to eject directly over the area you just bombed." - U.S. Air Force Manual
---------------------------------------------------------------------------------------------------------------------------------
"Whoever said the pen is mightier than the sword obviously never encountered automatic weapons." - General Macarthur
----------------------------------------------------------------------------------------------------------------------
"You, you, and you ... Panic. The rest of you, come with me." - U.S. Marine Corp Gunnery Sgt.
------------------------------------------------------------------------------------------------------------------------------------
"Tracers work both ways." - U.S. Army Ordinance
- -------------------------------------------------------------------------------
"Five second fuses only last three seconds" - Infantry Journal
----------------------------------------------------------------------------------------------------
"Any ship can be a minesweeper. Once."
---------------------------------------------------------------
"Never tell the Platoon Sergeant you have nothing to do." - Unknown Marine Recruit
-----------------------------------------------------------
"If you see a bomb technician running, follow him." - USAF Ammo Troop
-------------------------------------------------------
"Though I Fly Through the Valley of Death , I Shall Fear No Evil. For I am at 80,000 Feet and Climbing." - At the entrance to the old SR-71 operating base Kadena , Japan
-------------------------------------------------------
"You've never been lost until you've been lost at Mach 3." - Paul F. Crickmore (test pilot)
--------------------------------------------------------
"The only time you have too much fuel is when you're on fire."
-------------------------------------------------------
"If the wings are traveling faster than the fuselage, it's probably a helicopter -- and therefore, unsafe."
-------------------------------------------------------
"When one engine fails on a twin-engine airplane you always have enough power left to get you to the scene of the crash."
-------------------------------------------------------
"Without ammunition, the USAF would be just another expensive flying club."
-------------------------------------------------------
"What is the similarity between air traffic controllers and pilots? If a pilot screws up, the pilot dies; if ATC screws up, the pilot dies."
-------------------------------------------------------
"Never trade luck for skill."
--------------------------------------------------------
The three most common expressions (or famous last words) in aviation are: "Why is it doing that?", "Where are we?" And "Oh S...!"
------------------------------------------------------
"Airspeed, altitude and brains. Two are always needed to successfully complete the flight."
-------------------------------------------------------
"Mankind has a perfect record in aviation; we never left one up there!"
-------------------------------------------------------
"Flying the airplane is more important than radioing your plight to a person on the ground incapable of understanding or doing anything about it."
--------------------------------------------------------
"The Piper Cub is the safest airplane in the world; it can just barely kill you." - Attributed to Max Stanley (Northrop test pilot)
-------------------------------------------------------
"There is no reason to fly through a thunderstorm in peacetime." - Sign over squadron ops desk at Davis-Monthan AFB, AZ, 1970
---------------------------------------------------------
"If something hasn't broken on your helicopter, it's about to."
---------------------------------------------------------
As the test pilot climbs out of the experimental aircraft, having torn off the wings and tail in the crash landing, the crash truck arrives, the rescuer sees a bloodied pilot and asks "What happened?" The pilot's reply: "I don't know, I just got here myself!" - Attributed to Ray Crandall (Lockheed test pilot)


---
---
(c) Copyright 1999-2023 Allergy Associates of New London, PC