George A. Sprecace M.D., J.D., F.A.C.P. and Allergy Associates of New London, P.C.
www.asthma-drsprecace.com
---
RAPID RESPONSE (Archives)...Daily Commentary on News of the Day

This is a new section. It will offer fresh, quick reactions by myself to news and events of the day, day by day, in this rapid-fire world of ours. Of course, as in military campaigns, a rapid response in one direction may occasionally have to be followed by a "strategic withdrawal" in another direction. Charge that to "the fog of war", and to the necessary flexibility any mental or military campaign must maintain to be effective. But the mission will always be the same: common sense, based upon facts and "real politick", supported by a visceral sense of Justice and a commitment to be pro-active. That's all I promise.
GS




FRIDAY, November 30

,

2007

When will I get something good to say about Public Education and our "educators"? The union veto of competition, student vouchers and parental-student choice continues. There is no mechanism for dealing with the mediocrity of many teachers, tenured too soon, to easily and without regular oversight. Now come two articles in the WSJ (Wednesday, Nov. 28, Opinion, pA23), on resistance to English as our official language, and on incredible objections to "Thought Competition". "The self-esteem movement's latest dumb idea is to ban writing and math contests in our schools." In another article in the WSJ (Tuesday, Nov. 27, pA1) we learn that "Parents of Disabled Students Push For Separate Classes". What took them so long? Mainstreaming of substantially disabled children in regular classes has been in many cases a disaster for those children, for the other children, and for their teachers...this according to many teachers who will discuss such matters only "on background". And then there is the constant flow of poor grades and poor rankings, local, national and internationa. So, when do our students and I get a break here?
In my offering for Nov. 19-25, I briefly stated my prognosis for the Annapolis meeting. On Monday, Nov. 26, in the WSJ Opinion, pA21, Professor Bernard Lewis offered an article "On The Jewish Question". As always, anything he writes in the Middle East is a must-read. And furthermore, we agree.
GS



THURSDAY, November 29

,

2007



Last night's Republican Presidential Candidate in Florida provided several important lessons for us citizens...but only if you were there or actually saw the event live on TV. For the main media reports have spun and distorted it, as usual.
All the first tier candidates did well: McCain, Giuliani, Romney.
The second tier candidates (Huckabee, Thompson, and even Hunter and Tancredo) improved.
Only Ron Paul, he of the unrealistic but tightly held convictions, seemed diminished, in my view.
McCain must temper his barely subliminal temper if he is to avoid scaring the average citizen.
Nobody ducked qiestions...all replies were responsive, a refreshing change from the approach of some Democratic contenders.
They all have a good sense of humor and are comfortable among themselves.
They all see Bill and Hillary as the true adversary.
In my opinion, Giuliani and McCain are now neck-and-neck for my vote.
But then you read and view reports about the debate, and you wonder whether those reports were written after...or before...the debate. "...scornfully debated...." "...testy personal exchange...." "...free-for-all...." "...deeply personal dispute...." NONSENSE. There were differences of opinion, vigorously expressed, with no sign of personal animus among the candidates. Ronald Reagan must have been proud. Indeed, the only thing that these Republicans have to fear would be the sclerotic thinking of the Far Right on Primary Days, one of whose members tried to get them last night to accept "every word in the Bible, word for word". Wisely, the all declined.

Meanwhile, a televised debate among Democratic candidates scheduled for December 10th has been cancelled by the Democratic National Committee "to avoid a potential conflict with Hollywood screenwriters". There you have it, folks. The Punch and Judy Show cannot go on without scripts...and the public's right to know these people be damned.


GS



WEDNESDAY, November 28

,

2007



*Twas the month before Christmas*

*When all through our land,*

*Not a Christian was praying*

*Nor taking a stand.*

*See the PC Police had taken away,*

*The reason for Christmas - no one could say.*

*The children were told by their schools not to sing,*

*About Shepherds and Wise Men and Angels and things.*

*It might hurt people's feelings, the teachers would say*

* December 25th is just a "Holiday".*

*Yet the shoppers were ready with cash, checks and c redit*

*Pushing folks down to the floor just to get it!*

*CDs from Madonna, an X BOX, an I-pod*

*Something was changing, something quite odd! *

*Retailers promoted Ramadan and Kwanzaa*

*In hopes to sell books by Franken & Fonda.*

*As Targets were hanging their trees upside down*

*At Lowe's the word Christmas - was no where to be found.*

*At K-Mart and Staples and Penny's and Sears*

*You won't hear the word Christmas; it won't touch your ears.*

*Inclusive, sensitive, Di-ver-is-ty*

*Are words that were used to intimidate me.*

*Now Daschle, Now Darden, Now Sharpton, Wolf Blitzen*

*On Boxer, on Rather, on Kerry, on Clinton!*

*At the top of the Senate, there arose such a clatter*

*To eliminate Jesus, in all public matter.*

*And we spoke not a word, as they took away our faith*

*Forbidden to speak of salvation and grace*

*The true Gift of Christmas was exchanged and discarded*

*The reason for the season, stopped before it started.*

*So as you celebrate "Winter Break" under your "Dream Tree"*

*Sipping your Starbucks, listen to me.*

*Choose your words carefully, choose what you say*

*Shout MERRY CHRISTMAS*

*Not Happy Holiday!*



-Source Unknown





TUESDAY, November 27

,

2007



Six Boys And Thirteen Hands... (Source Unknown)

Each year I am hired to go to Washington, DC, with the eighth grade class from Clinton, WI where I grew up, to videotape their trip. I greatly enjoy visiting our nation's capitol, and each year I take some special memories back with me. This fall's trip was especially memorable.
On the last night of our trip, we stopped at the Iwo Jima memorial This memorial is the largest bronze statue in the world and depicts one of the most famous photographs in history -- that of the six brave soldiers raising the American Flag at the top of a rocky hill on the island of Iwo Jima, Japan, during WW II.

Over one hundred students and chaperones piled off the buses and headed towards the memorial. I noticed a solitary figure at the base of the statue, and as I got closer he asked, "Where are you guys from?"

I told him that we were from Wisconsin "Hey, I'm a cheese head, too! Come gather around, Cheese heads, and I will tell you a story."

(James Bradley just happened to be in Washington, DC, to speak at the memorial the following day. He was there that night to say good night to his dad, who had passed away. He was just about to leave when he saw the buses pull up. I videotaped him as he spoke to us, and received his permission to share what he said from my videotape. It is one thing to tour the incredible monuments filled with history in Washington, D.C., but it is quite another to get the kind of insight we received that night.)

When all had gathered around, he reverently began to speak. (Here are his words that night.)

"My name is James Bradley and I'm from Antigo, Wisconsin My dad is on that statue, and I just wrote a book called "Flags of Our Fathers" which is #5 on the New York T imes Best Seller list right now. It is the story of the six boys you see behind me.

"Six boys raised the flag. The first guy putting the pole in the ground is Harlon Block. Harlon was an all-state football player. He enlisted in the Marine C orps with all the senior members of his
football team. They were off to play another type of game: A game called "War." But it didn't turn out to be a game. Harlon, at the age of 21, died with his intestines in his hands. I don't say that to gross you out, I say that because there are people who stand in front of this statue and talk about the glory of war. You guys need to know that most of the boys in Iwo Jima were 17, 18, and 19 years old - and it was so hard that the ones who did make it home never even would talk to their famil ies about it.

(He pointed to the statue) "You see this next guy? That's R ene Gagnon from New Hampshire. If you took Rene's helmet off at the moment this photo was taken and looked in the webbing of that helmet, you would find a photograph... a photograph of his girlfriend. Rene put that in there for protection because he was scared. He was 18 years old. It was just boys who won the battle of Iwo Jima. Boys. Not old men.
"The next guy here, the third guy in this tableau, was Sargeant Mike Strank. Mike is my hero. He was the hero of all these guys. They called him the "old man" because he was so old. He was already 24! When Mike would motivate his boys in training c amp, he didn't sa y, 'Let's go kill some Japanese' or 'Let's die for our country.' He knew he was talking to little boys. Instead he would say, 'You do what I say, and I'll get you home to your mothers.'"
"The last guy on this side of the statue is Ira Hayes, a Pima Indian from Arizona. Ira Hayes was one who walked off Iwo Jima . He went into the White House with my dad. President Truman told him, 'You're a hero.' He told reporters, 'How can I feel like a hero when 250 of my buddies hit the island with me and only 27 of us walked off alive?' So you take your class at school, 250 of you spending a year together having fun, doing everything together. Then all 250 of you hit the beach, but only 27 of your classmates walk off alive. That was Ira Hayes. He had images of horror in his mind. Ira Hayes carried t he pain home with him and eventually died dead drunk, face down at the age of 32. (ten years after this picture was taken).
"The next guy, going around the statue, is Franklin Sousley from Hilltop, Kentucky. A fun-lovin' hillbilly boy. His best friend, who is now 70, told me, 'Yeah, you know, we took two cows up on the porch of the Hilltop General Store. Then we strung wire across the stairs so the cows couldn't get down. Then we fed them Epsom salts. Those cows crapped all night.' Yes, he was a fun-lovin' hillbilly boy. Franklin died on Iwo Jima at the age of 19. When the telegram came to tell his mother that he was dead, it went to the Hilltop General Store. A barefoot boy ran that telegram up to his mother's farm. The neighbors could hear her scream all night and into the morning. Th ose neighbors lived a quarter of a mile away.
"The next guy, as we continue to go around the statue, is my dad, John Bradley from Antigo, Wisconsin, where I was raised. My dad lived until 1994, but he would never give interviews. When Walter Cronkite's producers or the New York Times would call, we were trained as little kids to say "No, I'm sorry, sir, my dad's not here. He is in Canada fishing. No, there is no phone there, sir. No, we don't know when he is coming back." My dad never fished or even went to Canada. Usually, he was sitting there right at the table eating his Campbell's soup. But we had to tell the press that he was out fishing. He didn't want to talk to the press.
"You see, like Ira Hayes, my dad didn't see himself as a hero. Everyone thinks these guys are heroes, 'cause they are in a photo and on a monument. My dad knew better. He was a medic. John Bradley from Wisconsin was a caregiver. In Iwo Jima he probably held over 200 boys as they died. And when boys died in Iwo Jima, they writhed and screamed, without any medication or help with the pain.
"When I was a little boy, my third grade teacher told me that my dad was a hero. When I went home and told my dad that, he looked at me and said, 'I want you always to remember that the heroes of Iwo Jima are the guys who did not come back. Did NOT come back.'
"So that's the story about six nice young boys. Three died on Iwo Jima , and three came back as national heroes. Overall, 7,000 boys died on Iwo Jima in the worst battle in the history of the Marine Corps My voice is giving out, so I will end here. Thank you for your time."
Suddenly, the monument wasn't just a b ig old piece of metal with a flag sticking out of the top. It came to life before our eyes with the heartfelt words of a son who did indeed have a father who was a hero. Maybe not a hero for the reasons most people would believe, but a hero nonetheless.
We need to remember that God created this vast and glorious world for us to live in, freely, but also at great sacrifice.
Let us never forget from the Revolutionary War to the current War on Terrorism and all the wars in-between that sacrifice was made for our freedom.
Remember to pray praises for this great country of ours and also pray for those still in murderous unrest around the world.
God Bless You and God Bless America
REMINDER: Everyday that you can wake up free, it's going to be a great day.
PS . One thing I learned while on tour with my 8th grade students in DC that is not mentioned here is that if you look at the statue very closely and count the number of "hands" raising the flag, there are 13. When the man who made the statue was asked why there were 13, he simply said the 13th hand was the hand of God.
Great story - worth your time - worth every American's time.





MONDAY, November 26

,

2007

To all liberal Democrats and lily-livered Republicans: I TOLD YOU SO. GS



By BEN FELLER, Associated Press Writer Mon Nov 26, 6:32 PM ET

WASHINGTON - President Bush on Monday signed a deal setting the foundation for a potential long-term U.S. troop presence in Iraq, with details to be negotiated over matters that have defined the war debate at home — how many U.S. forces will stay in the country, and for how long.


The agreement between Bush and Iraqi Prime Minister Nouri al-Maliki confirms that the United States and Iraq will hash out an "enduring" relationship in military, economic and political terms. Details of that relationship will be negotiated in 2008, with a completion goal of July, when the U.S. intends to finish withdrawing the five combat brigades sent in 2007 as part of the troop buildup that has helped curb sectarian violence.

"What U.S. troops are doing, how many troops are required to do that, are bases required, which partners will join them — all these things are on the negotiating table," said Lt. Gen. Douglas Lute, President Bush's adviser on the wars in Iraq and Afghanistan.

The proposal underlines how the United States and Iraq are exploring what their relationship might look like once the U.S. significantly draws down its troop presence. It comes as a Democratic Congress — unsuccessfully, so far — prods Bush to withdraw troops faster than he wants.

Bush and al-Maliki signed the new U.S.-Iraq "declaration of principles" during a secure video conference Monday morning.

Al-Maliki, in a televised address, said his government would ask the United Nations to renew the mandate for the multinational force for one final time with its authorization to end in 2008.

The U.S.-Iraq agreement will replace the present U.N. mandate regulating the presence of the U.S.-led forces in Iraq. Al-Maliki said the agreement provides for U.S. support for the "democratic regime in Iraq against domestic and external dangers."

It also would help the Iraqi government thwart any attempt to suspend or repeal a constitution drafted with U.S. help and adopted in a nationwide vote in 2005. That appeared to be a reference to any attempt to remove the government by violence or in a coup.

Al-Maliki said the renewal of the multinational forces' mandate was conditional on the repeal of what he called restrictions on Iraqi sovereignty introduced in 1990 by the U.N. Security Council to punish Iraq for invading neighboring Kuwait.

The new agreement would not signal an end to the U.S. mission here. But it could change the rules under which U.S. soldiers operate and give the Iraqis a greater role in determining their mission.

Two Republican senators said that unless Baghdad makes more political progress by January, the U.S. should consider withdrawing financial aid or political support from al-Maliki.

The warnings, coming from Sens. Lindsey Graham and Saxby Chambliss, were an indication that while GOP patience on the war has increased this fall because of security gains made by the military, it isn't bottomless.

"I do expect them to deliver," Graham, R-S.C., said in a phone interview. "What would happen for me if there's no progress on reconciliation after the first of the year, I would be looking at ways to invest our money into groups that can deliver."

Likewise, Chambliss, R-Ga., suggested lawmakers might even call for al-Maliki's ouster if Baghdad didn't reach agreements on at least some of the major issues seen as key to tamping down sectarian violence.

Two senior Iraqi officials familiar with the issue say Iraq's government will embrace a long-term U.S. troop presence in return for U.S. security guarantees as part of a strategic partnership. The two officials, who spoke on condition of anonymity because the subject is sensitive, said U.S. military and diplomatic representatives appeared generally favorable, subject to negotiations on the details, which include preferential treatment for American investments.

Preferential treatment for U.S. investors could provide a huge windfall if Iraq can achieve enough stability to exploit its vast oil resources. Such a deal would also enable the United States to maintain leverage against Iranian expansion at a time of growing fears about Tehran's nuclear aspirations.

The framework Bush approved outlines broad principles, such as that both countries will support Iraq's economic institutions, and help its government train Iraqi security forces to provide stability for all Iraqis. Lute said "all major national leaders of the existing Iraqi government" have committed to it.

"The basic message here should be clear: Iraq is increasingly able to stand on its own; that's very good news, but it won't have to stand alone," said Lute, who rarely holds televised briefings.

He said it is too soon to tell what the "shape and size" of the U.S. military commitment will look like, including military bases.

The Iraqi officials said that under the proposed formula, Iraq would get full responsibility for internal security and U.S. troops would relocate to bases outside the cities. Iraqi officials foresee a long-term presence of about 50,000 U.S. troops, down from the current figure of more than 160,000.

___

Associated Press Writer Qassim Abdul-Zahra in Baghdad contributed to this story.

MONDAY through SUNDAY, November 19 through 25

,

2007



RANDOM THOUGHTS.
The Criminal Justice System in Connecticut is under review, after the Cheshire home invasion and murders by recently paroled felons. Good idea, and not only for Connecticut. Between prosecutorial misconduct cases including those at Duke University and probably at Jena, the finding of over 200 cases of inmates proven innocent by DNA so far (as reported in the Sunday NYTimes, Nov. 25, pA1), and the developing panic over the release of sex offenders after they have served their terms, both our system of Justice and our personal views of injustice need an overhaul. Of relevance here is an article by a Holocaust survivor, Hajo G. Meyer entitled: "Lessons From The Holocaust" (The Day Sunday, Nov. 25, pE3). The author notes that holocausts and ethnic cleansings are preceeded by years spent dehumanizing the target people, in the course of which the perpetrators are themselves dehumanized. Related also could be the increasingly shrill voices being raised against "illegals" as a poor substitute for rational and humane discussion about this country's immigration policy.
Pakistan and Afghanistan may be going to hell in a handbasket. But the foggy heads from Foggy Bottom and their befuddled followers continue to demand Jeffersonian democracy...NOW. What idiocy! There can be no democracy without security FIRST.
The conference on the Middle East about to convene in Annapolis will provide at least some theater. That's because the Arabs are not prepared to "recognize" Israel and to admit that the "Right of Return" is a pipe dream - and Israel is not prepared to give up any land ceded to it by God in the Bible. Now, there's a rock and a hard place.
More military desertions than military deaths in Iraq; yet another retired General finally willing to share the light with us; and a well - deserved indictment of Rumsfeld in the form of a book by Andrew Cockburn. Certainly, part of President Bush's "legacy" will be his having presided over the massive degrading of our armed forces on the ground. In this, he had plenty of help from the Pentagon. What a shame.
Fundamentalist Islam...and the rape victim who gets 200 lashes in Saudi Arabia. When are the true followers of Islam going to deal with this? For this is a greater threat to a civilized world, democratic or otherwise, Christian, Muslim or otherwise, than Hitler or Stalin ever were.
Health Care continues in the news, this time in a long editorial in the Sunday NYTimes, Nov. 25. This must be carefully chewed and digested, in order to avoid the need for a Heimlich manuever. More on this later.
I have yet to read the book "Her Way" on Hillary Rodham Clinton, but I like the way that she is handling herself. Her greatest liability may turn out to be Bill. In any case, Republicans will have to field their very best candidate in order to beat her.
"A well-regulated militia being necessary to the security of a free state, the right of the people to keep and bear arms shall not be infringed." So reads the Second Amendment to the U.S. Constitution. Its meaning is about to be reviewed - again - by the USSC. Mike Cox, the Attorney General of Michigan, writes a good analysis of this question in the WSJ Friday, Nov. 23, pA13. For me, the interpretation is forthright: the first clause is permissive; the second is obligatory. In addition, any holding by the USSC that attempts to eliminate American citizens' right to keep and bear arms would have much less success than the Prohibition amendment had.
GS



SATURDAY and SUNDAY, November 17 and 18

,

2007



This week's stories and issues invite a broad - brush approach.
Our international relations, always a subject of doom and gloom from the Left fringe, were shown for what they really are in the recent actions of France's Sarkozy, Germany's Merkel and England's new leadership. As the man said: "Nations do not have friends; they have interests". As long as the U.S. remains, economically and militarily, the only super-power in the world, the rational world's interests will be aligned with our's.
But how does that square with the actions of Russia, Venezuela and China? The first two countries exert influence over us only because of our "addiction to oil", fostered by all the trans-national oil companies. The resolution to that problem is clear, although once again it is not coming from our elected "leaders", but rather from the decisions of the Judiciary. That is not the most healthy way to get things done in a Democracy; but it if's the only way.... And the greed of American corporations is the reason allowing China not only to take American jobs, but to poison us in the process. Here again, the Courts can help ("sue the bastards"). But ultimately, the democratic process is our best hope: voter participation and leader compromise instead of constant confrontation. Nancy Pelosi and Harry Reid...are you listening? There are two light-weights, for sure.
The Liberals and Internationalists have just recently changed their endemic panic from worries about an impending attack by us on Iran to the "crisis" in Pakistan. That nation, powerful beyond its geography and GNP because of its status as a nuclear power, has been a democracy and will be once again a democracy - if not in the exact mold of the U.S - once security is re-established. There can be no democracy without security, all the more so in a country beset by al Qaida, the Taliban, Muslim fundamentalists, and most recently by the politician B. Bhutto. So, get off Musharraf's back...at least in the back-channels.
Two articles in Sunday's NYTimes address Immigration, both the politics and the global economics of this problem / opportunity. (Nov. 18, Wk., p1,3). Many political careers will be stunted by the nonsense that now passes for informed debate on the subject. They will have deserved it. But the many millions of hard-working immigrants of whatever legal status...and the many more millions of people throughout the world who depend on their money transfers for subsistence...will not deserve a global recession if we keep screwing up on this issue. For details of my position on this subject, see my many prior statements on this subject in this section.
And, while we're at it, let's stop talking about Black and White...and start talking about Poor and non - Poor. That is, has always been, and will always be the central issue confronting the health of this country that from the beginning promised "Life, Liberty, and the Pursuit of Happiness". The "leaders" of the Black community would do well to embrace this approach rather than continuing their racist demagoguery.
Can it be: a rational dialogue between Christianity and Islam? See www.acommonword.com for the Muslim initiative, and a Christian response in the Sunday NYTimes, Nov. 18, wk. p4. "Blessed are the peacemakers, for they shall be called sons of God".
GS



FRIDAY, November 16

,

2007



This offering is about ARROGANCE.
This week I heard part of an NPR interview with Shannon Brownlee, the author of a recent book entitled: "Overtreated: Why Too Much Medical Care Is Making Us Sicker and Poorer". I have not yet read the book. But the author's extended comments made two things clear: 1) she relied heavily on pronouncements from the Institute of Medicine, an august group of mainly university Professors of Medicine that produces frequent and often controversial findings; and 2) she had developed, in the course of immersion in her subject, the temerity to advise the listening public about the merits and demerits of colonoscopies, mammograms, screening for prostate cancer.... She kept referring to "evidence", probably "evidence-based Medicine", to which all physicians aspire...but which to the Professors too often includes only "placebo controlled, double-blind crossover studies" and discounts careful clinical experience. Two examples of the resulting disconnect: a) the use of aspirin to reduce the risk of coronary artery diseases was begun on clinical intuition in about 1975 by many practising physicians in the field; it took until 1987 for the imprImatur to come down from on high; b) in 1976 in Connecticut a strange illness began to appear, with elements of both infection and immune reaction, and which we in practice treated logically with penicillin and steroids - it turned out to be Lyme Disease, and we were later proven right. The take-home message sounds like: Reading - and searching the web - may be dangerous to your health. "CAVEAT EMPTOR".
One segment of last Sunday's 60 Minutes discussed "THE MILLENNIAL GENERATION", those children born in the 1980's and early 1990's, the years when everyone was a winner and got trophies, when no one was allowed to fail for fear of upsetting their "self-image", and when everybody was "special" according to their parents, their teachers and Mr. Roberts. Fast forward to these miracle kids entering the job market and expecting - demanding - special attention, constant stroking, and the right to extend adolescence through their twenties. I hereby offer a substitute name for them: THE DELUSIONAL GENERATION.

GS



MONDAY through THURSDAY, November 12 through 15

,

2007

New Haven, Ct. Mayor De Stefano and New York State Governor Elliot Spitzer are being heavily criticized for their attempts to inject some sense into the immigration debacle. I have addressed this on a number of occasions earlier in this section. Here we go again.

We need a National – and not State or local – immigration policy which must include: a) a clear mechanism for legitimizing the current 12 million "illegals", who can easily be called "invitees" of our corporations and our citizens, all enabled by Federal government inaction; b) an effective mechanism for closing and patrolling our borders, with severe penalties for violations; c) Sensible and enforceable future Immigration laws and mechanisms for aliens from throughout the world, but especially from Mexico and Canada, our neighbors; d) a mechanism for penalizing Mexico and / or Canada for promoting or facilitating the movement of their citizens to and across their borders; e) severe penalties – against nations, cartels and individuals - for drug dealing; f) severe penalties for drug pushers in this country, as distinguished from drug addicts who are not pushers, and who should be considered patients.

Mayor De Stefano and Governor Spitzer…and other local leaders…have tried to address a national problem locally – and are bound to fail…in the streets and / or in court. That is not their fault, but the fault of our craven national "leaders".

GS



FRIDAY through SUNDAY, November

9 through 11,

2007



A very interesting news cycle during the past few days.
Pakistan / Musharraf / Bhutto / Bush and Rice. Instead of encouraging riots and unrest in the name of "democracy", we should be concerned with maintaining stability in that vital part of the world. We saw what trying to place democracy before security accomplished in Iraq. For more on this, see Charles Krauthammer's article in the Washington Post, Nov. 9,
It was nice to see father Bush supporting son Bush. He was right about supporting our invasion of Iraq. Information is now beginning to come out about Hussein having reported that he "faked" having WMD's in defense against Iran...but that he did not foresee that this would produce an invasion. But father Bush is too loyal if he gives son Bush a free pass on the conduct of the post-invasion years. Most relevant to that debacle is a recent book by Andrew Cockburn entitled "Rumsfeld: His Rise, Fall, and Catastrophic Legacy" (Scribner, 2007).
When are our multinational corporations and our complicit government going to get a handle on the invasion of toxic products from China. You don't expect the totally self-absorbed and amoral Chinese givernment to do anything about that, do you?
More on the "education - union complex. We now know that, not only is teacher - student sex approaching a commonplace, but the system also does its best to hide it. Ever hear of "fiduciary responsibility", folks?
Scientific progress is always complicating "certainty", as Galileo did with our understanding of our universe. Now comes: DNA science and its possible impact on our understanding of and dealing with issues of Race: and the science of sexual development, with its emerging impact on our understanding of and dealing with issues of Gender. The worst thing that we could would be to follow the lead of the Catholic Church in the Middle Ages and to attempt to submerge that progress.
Regarding Religions and charities, these institutions are both having trouble surviving in today's secular and self-centered world. Both are beginning to consider a tool used to good effect in the business world: mergers. Another good idea would be to develop new "lines of business": like actually getting involved in dialogue (not monologue) on the pressing social issues of the day instead of being afraid to enter the fray.
Is "chubby" and "pleasingly plump" back? There is now evidence that "overweight", ie. a BMI of between 25 and 29, may be accompanied by a longer and healthier life expectancy. But this does not apply to Fatties and Anorexics. In fact, the burden that those people and their life-styles place on our health care delivery system makes ideas about charging them extra for health insurance entirely appropriate.
Finally, a comment on the local scene...in New London, Ct. The Day (www.theday.com) today published an entirely appropriate angry editorlal about the arrogance and probable lawlessness of the current City Council regarding its action denying a legitimate referendum call by its citizens. In the process, the action - or rather inaction - of the City Clerk represents either mis-feasance or (if following direction of the Council) mal-feasance in office. Furthermore, the City Attorney probably got his interpretation of the City Charter wrong in light of the facts. Perhaps a law suit will be necessary to right this wrong. And while we're at it, how was it...with the local Democratic Party and its Council minions clearly against considering a Mayoral form of government, and with that Party's regularly demonstrated ability to get out the vote...that the last referendum vote on a Charter change failed because too few citizens voted? Is it possible that the Democratic machine got the word out that its people should stay home? Now, would that have been that democratic, or just a cynical power-play? You decide. Meanwhile, revision of the City Charter is not going away...not by a long shot.
GS



MONDAY through THURSDAY, November

5 through 8,

2007



Oh yes, the election in New London, Ct. As I wondered before the election, the people did not "get it". Over 60% of registered voters failed to vote, after a particularly informative compaign. And, although the presence of new faces including my son's offers promise, the writer Brad Wheeler cannot be faulted for his terse appraisal published as a Letter to the Editor in The Day yesterday: "Congratulations, New London, for voting yourselves two more years of high taxes, unsafe streets, underperforming schools and a poor local economy by not only returning to power an undeserving Democratic Party, but increasing its majority."

After 1950's Presidential candidate A. Stevenson had completed one of his erudite speeches before university faculty and students, one of the students rose to predict that "every intelligent person in America will vote for you". To which Mr. Stevenson replied: "Thank you...but I would just settle for a majority".


GS



MONDAY through THURSDAY, November

5 through 8,

2007



Even the occasional visitor to this web site is aware of my decades - long critique of Public Education in America. For a continuing education on the subject, visit the Category entitled "Public Education" on this web site. And the news never gets better. See two recent editorials in the WSJ: 1) "Union Orders: Caught In The Act of Trying To Kill Charter Schools", Friday, October 12, pA16; 2) "Worse Than You Think: A New Study On Lousy Suburban Schools", Wednesday, October 24, pA20.

Let us be clear on the following: This is not an indictment of the many good teachers who have tried daily to do their best in a situation made impossible by the demands of society during the last 30 years - and accepted and perpetuated by their union leaders and their "educators". It is a total indictment of those union leaders, those "educators", and those teachers who could do something about it and haven't...and also of any teachers, current or retired, who try to defend the past and current actions of their leaders. As I have said before: if physicians and nurses practised Medicine the way "educators" have practised public education, we would rightly be in jail.

And how great segments of parents and of the voting public allow this travesty to continue, with the active participation of the Democratic Party, that wholly owned subsidiary of Teachers' Unions, is beyond me. Where are standards? Where are teacher and student accountability? Where are competition and choice? The No Child Left Behind Act is a start, although constantly attacked by the Education Establishnment. Have they no shame?



GS



SUNDAY, November

4,

2007


The Day (www.theday.com) endorsements for City Council have been published (Sunday, Nov. 4). My son Adam is #2 in a slate of 7 persons endorsed - out of 16 running for the 7 seats. HURRAY. The opinion - makers "get it": the desperate need for leadership...and for CHANGE to get that leadership. Now let's see on Tuesday whether the people of New London, Ct. "get it".
Related to this is the column by Anthony Cronin in the same editionof The Day, entitled "Talk - talk can lead to win-win" (Workday, kpG1). In my own experience over the decades, on the New London Board of Education and the City Council, and in many other venues, forget about "win - lose", and strive for "win - win". That takes much more time than bulldozing something through...but it pays high and continuing dividends when the game is about "getting things done".
Guantanamo. Closing that prison will not by itself address or resolve the issue of the definition of "terror" and "terrorists", and related "rights" or lack of same. Resolve that! And while we're at it, resolve the immigration issue nationally and comprerhensively. What we have now is poor leadership by Democrats and Republicans alike in Washington D.C.
More on public education. An article in the Connecticut section of the Sunday NYTimes takes issue with "exit examinations" to graduate from high school. Always cursing the darkness instead of providing some light. Treat the rampant infection instead of just constantly scratching the scab.
That unbiased and objective journalist, Frank Rich of the NYTimes finds himself and the Democrats on the horns of a dilemma. The Democrats have been in a panic thinking that we are about to invade Iran. Now those same Democrats are beginning to panic that we will not invade Iran. (See the Rich article in Sunday's NYTimes, Wk p14). What's a sclerotic Democrat to do?
GS



THURSDAY through SATURDAY, November

1 through 3,

2007

Sorry, folks. But some of these things are just too good to erase. Besides, they're true. GS

The Plan!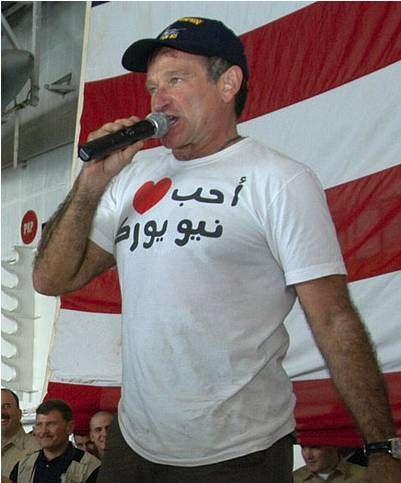 Robin Williams, wearing a shirt that says "I love New York" in Arabic.



You gotta love Robin Williams......Even if he's nuts! Leave it to Robin Williams to come up with the perfect plan. What we need now is for our UN Ambassador to stand up and repeat this message.

Robin Williams' plan...(Hard to argue with this logic!)

"I see a lot of people yelling for peace but I have not heard of a plan for peace. So, here's one plan."

1) "The US will apologize to the world for our "interference" in their affairs, past & present. You know, Hitler, Mussolini, Stalin, Tojo, Noriega, Milosevic, Hussein, and the rest of those "good 'ole' boys", we will never "interfere" again.

2) We will withdraw our troops from all over the world, starting with Germany , South Korea , the Middle East , and the Philippines . They don't want us there. We would station troops at our borders. No one allowed sneaking through holes in the fence.

3) All illegal aliens have 90 days to get their affairs together and leave. We'll give them a free trip home. After 90 days the remainder will be gathered up and deported immediately, regardless of who or where they are. They're illegal!!! France will welcome them.

4) All future visitors will be thoroughly checked and limited to 90 days unless given a special permit!!!! No one from a terrorist nation will be allowed in. If you don't like it there, change it yourself and don't hide here. Asylum would never be available to anyone. We don't need any more cab drivers or 7-11 cashiers.

5) No foreign "students" over age 21. The older ones are the bombers. If they don't attend classes, they get a "D" and it's back home baby.

6) The US will make a strong effort to become self-sufficient energy wise. This will include developing nonpolluting sources of energy but will require a temporary drilling of oil in the Alaskan wilderness. The caribou will have to cope for a while.

7) Offer Saudi Arabia and other oil producing countries $10 a barrel for their oil. If they don't like it, we go someplace else. They can go somewhere else to sell their production. (About a week of the wells filling up the storage sites would be enough.)

8) If there is a famine or other natural catastrophe in the world, we will not "interfere." They can pray to Allah or whomever, for seeds, rain, cement or whatever they need. Besides, most of what we give them is stolen or given to the army. The people who need it most get very little, if anything.

9) Ship the UN Headquarters to an isolated island someplace. We don't need the spies and fair weather friends here. Besides, the building would make a good homeless shelter or lockup for illegal aliens.

10) All Americans must go to charm and beauty school. That way, no one can call us "Ugly Americans" any longer. The Language we speak is ENGLISH..learn it...or LEAVE...Now, isn't that a winner of a plan?

The Statue of Liberty is no longer saying "Give me your tired, your poor, your huddled masses." She's got a baseball bat and she's yelling, ''you want a piece of me?'"


---
---
(c) Copyright 1999-2022, Allergy Associates of New London, PC