George A. Sprecace M.D., J.D., F.A.C.P. and Allergy Associates of New London, P.C.
www.asthma-drsprecace.com
---
RAPID RESPONSE (Archives)...Daily Commentary on News of the Day

This is a new section. It will offer fresh, quick reactions by myself to news and events of the day, day by day, in this rapid-fire world of ours. Of course, as in military campaigns, a rapid response in one direction may occasionally have to be followed by a "strategic withdrawal" in another direction. Charge that to "the fog of war", and to the necessary flexibility any mental or military campaign must maintain to be effective. But the mission will always be the same: common sense, based upon facts and "real politick", supported by a visceral sense of Justice and a commitment to be pro-active. That's all I promise.
GS




MONDAY through WEDNESDAY,

October 29 through 31,

2007

I can't believe what I see and read here. But then, I'm still young and inexperienced. GS



Senator Barack Obama, Governor Bill Richardson, Senator Hillary Clinton and Ruth Harkin stand during the national anthem.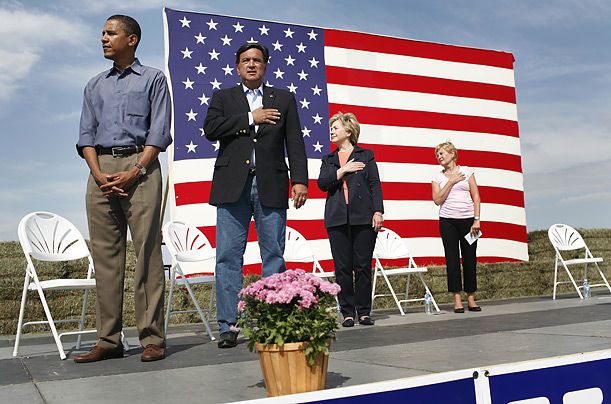 Barack Hussein Obama's photo (that's his real name)......the article said he REFUSED TO NOT ONLY PUT HIS HAND ON HIS HEART DURING THE PLEDGE OF ALLEGIANCE, BUT REFUSED TO SAY THE PLEDGE.....how in the heck can a man like this expect to be our next Commander-in-Chief?




SUNDAY,

October 28,

2007


Shiites vs Sunnis. The Sunnis (and the Kurds) now represent our only chance for snatching victory out of the jaws of defeat in Iraq. The Shiites must not be allowed to thwart that; and we must use all of our leverage to assure that.
The Death Penalty. As you may know from reading my Point and Counterpoint article (#30) posted under "Abortion, Morality and Ethics" on this web site, I have personally and with great difficulty come down against the death penalty. From the front page article appearing in Sunday's NYTimes out of Cheshire, Ct. - site of a horrible home invasion multiple murder scene - I am not alone in dealing with this question. But, ultimately, "'VENGANCE IS MINE', SAYETH THE LORD. 'I SHALL REPAY'".
On a related subject, see the article entitled "Abolish Parole" by Jeffery and Linda Meyer in Sunday's NYTimes, Connecticut Section, Ct.p15. That requires further study.
MRSA, a highly rersistant form of Staphylococcal infection, is in the news - although it is not news to the medical community. What is news proves again the maxim that "If you want to do 'original research', read the research done 40 years ago - and do it again". As with so many other diseases, existing immunologic protection produced by vaccines (or prior contact) is the best way to protect ourselves from that dangerous world around us. So it used to be for decades with Staph infections, during which time we had "Staph Toxoid" to use as a vaccine for susceptible persons. Then it was removed by the FDA for "lack of efficacy" - a position known to be false by all of its practitioners, including myself. Now we hear that such a vaccine is under study. The same is true of "Stock Bacterial Vaccine", some new iterations of which are once again under investigation based upon the findings of the "Hygiene Theory". As is so often the case in human history: "PAST IS PROLOGUE".
GS



SATURDAY,

October 27,

2007

FOR YOUR INFORMATION. GS



WHAT HAPPENED TO THE WW II MOVIE STARS?

In contrast to the ideals, opinions and feelings of today's "Hollywood" the real actors of yester-year loved the United States. They had both class and integrity. With the advent of World War II many of our actors went to fight rather than stand and rant against this country we all love.

They gave up their wealth, position and fame to become service men & women, many as simple "enlisted men."

This page lists but a few, but from this group of only 18 men came over 70 medals in honor of their valor, spanning from Bronze Stars, Silver Stars, Distinguish Service Crosses, Purple Hearts and one Congressional Medal of Honor.

So remember; while the "Entertainers of 2007" have been in all of the news media lately I would like to remind the people of what the entertainers of
1943 were doing, (64 years ago).

Most of these brave men have since passed on.

"Real Hollywood Heroes"

Alec Guinness (Star Wars) operated a British Royal Navy landing craft on D-Day.

James Doohan ("Scotty" on Star Trek) landed in Normandy with the U. S. Army on D-Day.

Donald Pleasance (The Great Escape) really was an R. A. F. pilot who was
shot down, held prisoner and tortured by the Germans.

David Niven was a Sandhurst graduate and Lt. Colonel of the British
Commandos in Normandy.

James Stewart Entered the Army Air Force as a private and worked his way to
the rank of Colonel. During World War II, Stewart served as a bomber pilot,
his service record crediting him with leading more than 20 missions over
Germany, and taking part in hundreds of air strikes during his tour of duty.

Stewart earned the Air Medal, the Distinguished Flying Cross, France's Croix

de Guerre,and 7 Battle Stars during World War II. In peace time, Stewart
continued to be an active member of the Air Force as a reservist, reaching
the rank of Brigadier General before retiring in the late 1950s.

Clark Gable (Mega-Movie Star when war broke out). Although he was beyond the

draft age at the time the U.S. entered WW II, Clark Gable enlisted as a
private in the AAF on Aug. 12, 1942 at Los Angeles. He attended the
Officers' Candidate School at
Miami Beach, Fla. and graduated as a second lieutenant on Oct. 28, 1942. He
then attended aerial gunnery school and in Feb. 1943
he was assigned to the 351st Bomb Group at Polebrook where flew operational
missions over Europe in B-17s. Capt. Gable returned to the U.S. in Oct. 1943

and was relieved from active duty as a major on Jun. 12, 1944 at his own
request, since he was over-age for combat.

Charlton Heston was an Army Air Corps Sergeant in Kodiak.

Ernest Borgnine was a U. S. Navy Gunners Mate 1935-1945.

Charles Durning was a U. S. Army Ranger at Normandy earning a Silver Star
and awarded the Purple Heart.

Charles Bronson was a tail gunner in the Army Air Corps, more specifically
on B-29's in the 20th Air Force out of Guam, Tinian, and Saipan.

George C. Scott was a decorated U. S. Marine.

Eddie Albert (Green Acres TV) was awarded a Bronze Star for his heroic
action as a U. S. Naval officer aiding Marines at the horrific battle on the
island of Tarawa in the Pacific Nov. 1943.

Brian Keith served as a US. Marine rear gunner in several actions against
the Japanese on Rabal in the Pacific.

Lee Marvin was a U.S. Marine on Saipan during the Marianas campaign when he
was wounded earning the Purple Heart.

John Russell: In 1942, he enlisted in the Marine Corps where he received a
battlefield commission and was wounded and highly decorated for valor at
Guadalcanal.

Robert Ryan was a U. S. Marine who served with the O. S. S. in Yugoslavia.

Tyrone Power (an established movie star when Pearl Harbor was bombed) joined

the U.S. Marines, was a pilot flying supplies into, and wounded Marines out
of, Iwo Jima and Okinawa.

Audie Murphy, little 5'5" tall 110 pound guy from Texas who played cowboy
parts: Most Decorated serviceman of WWII and earned: Medal of Honor,
Distinguished Service Cross, 2 Silver Star Medals, Legion of Merit, 2 Bronze

Star Medals with "V", 2 Purple Hearts, U.S. Army Outstanding Civilian
Service Medal, Good Conduct Medal, 2 Distinguished Unit Emblems, American
Campaign Medal, European-African-Middle Eastern Campaign Medal with One
Silver Star, Four Bronze Service Stars (representing nine campaigns) and one

Bronze Arrowhead (representing assault landing at Sicily and Southern
France) World War II Victory Medal Army of Occupation Medal with Germany
Clasp, Armed Forces Reserve Medal, Combat Infantry Badge, Marksman Badge
with Rifle Bar, Expert Badge with Bayonet Bar, French Fourragere in Colors
of the Croix de Guerre, French Legion of Honor, Grade of Chevalier, French
Croix de Guerre With Silver Star, French Croix de Guerre with Palm, Medal of

Liberated France, Belgian Croix de Guerre 1940 Palm.

So how do you feel the real heroes of the silver screen acted when compared
to the hollywonks today who spew out anti American drivel as they bite the
hand that feeds them? Can you imagine these stars of yester-year saying they
hate our flag, making anti-war speeches, marching in anti-American parades and saying they
hate our president? I thought not . . . neither did I!





FRIDAY,

October 26,

2007



"They're standing on the corner and they can't speak English. I can't even talk the way these people talk:
Why you ain't,
Where you is,
What he drive,
Where he stay,
Where he work,
Who you be...

And I blamed the kid until I heard the mother talk.

And then I heard the father talk.

Everybody knows it's important to speak English

except these knuckleheads. You can't be a doctor

with that kind of crap coming out of your mouth.

In fact you will never get any kind of job making a decent living. People marched and were hit in the face with rocks to get an education, and now we've got these knuckleheads walking around.

The lower economic people are not holding up their end in this deal.

These people are not parenting. They are buying things for kids. $500 sneakers for what ? ?

And they won't spend $200 for Hooked on Phonics.

I am talking about these people who cry when ! their s on is standing there in an orange suit.

Where were you when he was 2 ? ?

Where were you when he was 12 ? ?

Where were you when he was 18 and how come you didn't know that he had a pistol ? ?

And where is the father ? ? Or who is his father ?

People putting their clothes on backward:
Isn't that a sign of something gone wrong?

People with their hats on backward, pants down around the crack, isn't that a sign of something ?

Or are you waiting for Jesus to pull his pants up ?

Isn't it a sign of something when she has her dress all the way up and got all type of needles [piercing] going through her body?


What part of Africa did this come from??

We are not Africans. Those people are not Africans; they don't know a thing about Africa .

With names like Shaniqua, Taliqua and Mohammed and all of that crap, and all of them are in jail.

Brown or black versus the Board of Education is no longer the white person's problem.

We have got to take the neighborhood back.

People used to be ashamed. Today a woman has eight children with eight different 'husbands' -- or men or whatever you call them now.

We have millionaire football players who cannot read.

We have million-dollar basketball players who can't write two paragraphs. We, as black folks have to do a better job. Someone working at Wal-Mart with seven kids, you are hurting us.

We have to start holding each other to a higher standard.

We cannot blame the white people any longer."

Dr. William Henry "Bill" Cosby, Jr., Ed.D.


WAY TO GO, BILL ! !

It's never been about color...

It's about behavior ! ! !




TUESDAY through THURSDAY,

October 23 through 25,

2007

BARABING.



Difference Between a Republican and a Democrat




Fred Thompson

and Hillary were walking down the street when they came to a

homeless person..

The Republican,

Fred Thompson

, gave the homeless person his business card

and told him to come to his office for a job. He then took $20 out of his

pocket and gave it to the homeless person.

Hillary was very impressed, so when they came to another homeless person,

she decided to help. She walked over to the homeless person and gave him

directions to the welfare office. She then reached into Thompson's pocket

and got out $20. She kept $15 for her administrative fees and gave the

Now, do you understand the difference?




MONDAY,

October 22,

2007



No common denominator to the following set of comments.
The Nut doesn't fall far from the tree. Hank Steinbrenner, son of George, is quoted as saying about Joe Torre something to the effect that "We Made You...." Son, you learned the wrong lessons from your blustering father...and it will cost you - and the Yankees.
Nancy Pelosi is catching it from all sides for her stupid (or worse) foray into American foreign policy. More gaffes to come from this light-weight.
Teachers / Student Sex. Reportedly substantial in frequency, this abrogation of a fiduciary relationship - whether consensual or not - has been clarified as such by the recent refusal of the US Supreme Court to review the conviction of a teacher for reportedly having had consensual sex with "emancipated" teenagers. And now, the misuse of "privacy" determinations to hide these events by school officials should be eliminated. A bright light is what those people need.
Immigration Chaos. Need I say more?
The PKK is reportedly a Kurdish separatist movement in Iraq and in Turkey that has been using violence to further its ends. That should not be tolerated by the Americans, the Iraq central government, and by Turkey. That part of the world has enough trouble at this time.
There is a lot of demagoguery going on about the SCHIP child health insurance coverage bill recently vetoed by President Bush. A family of 4 with an income of $80,000. probably does not need help to purchase private health insurance. Any exceptions should be handled on a case-by-case basis. But that's too reasonable for the profligate Democrats (and emasculated Republicans) who are really trying to buy votes for themselves.
Now comes just what Middle School children need, in addition to "self-image": birth control pills and instruction. See what that will do to increase sexual activity at these too early ages, increase the incidence of STD's, further marginalize so-called "parents", and probably increase the incidence of bloated teenaged girls taking these powerful drugs during their pubertal growth phase. As I have said too many times since the late 60's: we are having to live through two generations - "HORSE'S ASS, AND SON OF HORSE'S ASS.
That's enough for now. It is Sunday, after all.

GS




THURSDAY through SUNDAY,

October 18 through 21,

2007



The following was written by Ben Stein and recited by him on CBS Sunday Morning Commentary.





My confession:

I am a Jew, and every single one of my ancestors was Jewish.

And it does not bother me even a little bit

when people call those

beautiful lit up, bejeweled trees Christmas trees. I don't

feel

threatened. I don't feel discriminated

against. That's what they are:

Christmas trees.

It doesn't bother me a bit when people say, 'Merry Christmas'

to me. I don't think they are slighting me or getting ready

to put me

in a ghetto. In fact, I kind of like

it. It shows that we are all

brothers and sisters celebrating this happy time of year. It

doesn't

bother me at all that there is a manger

scene on display at a key

intersection near my beach house in Malibu

.

If people want a crutch,

it's just as fine with me as is the Menorah a few hundred

yards away

.

I don't like getting pushed around for being a Jew, and I don't

think Christians like getting pushed around for being

Christians. I

think people who believe in God

are

sick

and tired of getting pushed

around, period. I have no idea where the concept came from

that America

is an explicitly atheist country. I can't find it in the

Constitution

and I don't like it being shoved down

my throat.

Or maybe I can put it another way: where did the idea come from

that we should worship Nick and Jessica and we aren't allowed

to

worship God as we understand Him?

I guess that's a sign that I'm getting old,

too.

But

there are a lot of us who are wondering where Nick and

Jessica came from and where the America we knew went to.

In light of the many jokes we send to one another for a laugh,

this is a little different: This is not intended to be a joke;

it's not

funny, it's intended to get you

thinking.

Billy Graham's daughter was interviewed on the Early Show and

Jane Clayson asked her 'How could God let something like

this happen?'

(regarding Katrina)

Anne Graham gave an extremely profound and

insightful response.

She said, 'I believe God is deeply saddened by this, just as we are,

but for years we've been telling God to get out of our

schools, to get

out of our government and to get out of

our lives.

And

being the gentleman He is, I believe He has calmly backed

out. How can we expect God to give us His blessing and His

protection

if we demand He leave us alone?'

In light of recent events...terrorists attack, school

shootings, etc. I think it started when Madeleine Murray

O'Hare (she

was murdered, her body found recently)

complained she didn't want

prayer in our schools, and we said OK.

Then someone said you better not read the Bible in school. The

Bible says thou shall not kill, thou shall not steal, and

love your

neighbor as yourself. And we said OK.

Then Dr. Benjamin Spock said we shouldn't spank our children

when they misbehave because their little

personalities would be warped

and we might damage their self-esteem (Dr. Spock's son

committed

suicide). We said an expert should know

what he's talking about. And we

said OK.

Now we're asking ourselves why our children have no conscience,

why they don't know right from wrong, and why it doesn't

bother them to

kill strangers, their classmates, and

themselves.

Probably, if we think about it long and hard enough, we can

figure it out. I think it has a great deal to do with

'WE REAP WHAT WE

SOW.'

Funny how simple it is for people to trash God and then wonder

why the world's going to hell.

Funny how we

believe what the newspapers say, but question what

the Bible says

.

Funny how you can send 'jokes' through e-mail and they

spread

like wildfire but when

you star

t s

ending

messages regarding the Lord,

people think twice about sharing.

Funny how lewd, crude, vulgar and obscene

articles pass freely

through cyberspace, but public

discussion of God is suppressed in the

school and workplace.

Are you laughing?

Funny how when you forward this message, you will not send it

to many on your address list because you're not sure what

they believe,

or what they will think of you for

sending it.

Funny how we can be more worried about what other people think

of us than what God thinks of us.

Pass it on if you think it has merit. If not then just discard

it... no one will know you did. But, if you discard this

thought

process, don't sit back and complain

about what bad shape the world is

in.

My

Best Regards

.



Honestly and respectfully,

Ben Stein




MONDAY through WEDNESDAY,

October 15 through 17,

2007



First, some further commentary on recent issues...and then onward.
Another murder in New London, Ct. This warrants neither the overreaction of calling it a crisis, nor an anesthetic response to all the violence around us. For example, I have taken to calling the local TV channel of NBC (Channel 4) "The BMW": burglary, murder...and the weather. No, this requires a sustained call for explanation and action from our City Manager, our Chiefs of Police and the State Police, the District Attorney, the State's Attorney, and representatives of our Judicial System. Did I leave out the Clergy and social workers? You bet! Let's see what I can do about this.
The sub-prime mortgage debacle. There's more to this than the "usual suspects": greed and stupidity. The article in Monday's WSJ entitled "The Subprime FHA" (by John Berlau, pA23) supports a suspicion that what has been going on is also a form of chicken-in-every-pot politics and crass social engineering. Of course, who do you think will suffer the most from this? Yup.
House Speaker Pelosi and the "Armenian Genocide". The following occurred to me also; but I discounted it as being too Machiavellian. Now comes the editorial in the WSJ Tuesday, October 16 (pA20) that gives voice to my vague suspicion: "...we are no longer able to discern whether the Speaker's foreign-policy intrusions are merely misguided or are consciously intended to cause a U.S. policy failure in Iraq." If the latter, would this not be treason?
President Bush acted the statesman today by doing what no other sitting President had done to date: meet with, acknowledge and support the Dalai Lama pubicly. Enough of this deference to China, which is simultaneously eating and poisoning our lunch. Those parts of the world called the MidEast, the Orient and Russia understand and respond to only one thing: strength and the willingness to use it.
Once again, the WSJ clarifies issues. See "The Rise of the Religious Left" by Steven Malanga (WSJ Tuesday, Oct. 16, pA21). Besides the American Clergy's temerity under the dual pressures of an overly conservative Vatican and the on-going clergy sex trauma with its massive financial toll, social conscience at times takes leave of common sense. So, where do we look for leaders? I'll keep looking.
GS



SUNDAY,

October 14,

2007



It looks like my first three comments in the last "Rapid Response" have legs.
Al Gore is properly commended by Tom Friedman (in the NYTimes, Sunday, Wk.) for his work on our behalf since his declared loss to George Bush. But President Bush is unfairly reviled by a journalist formerly known for his deep insights into the MidEast. It's too early for the journalist to become historian. Has he become politician?
The long article in The Day (Sunday, Oct. 14) about "gangs of New London, Ct" clearly frames the problem: long quotes and opinions by Superintendent of Schools Clouet...and too little by the police and by the DA. These are criminal matters, not education matters. Schools have a responsibility, where necessary, to protect their wards from societal injustice. But they have no legitimate role in protecting society from their criminal elements. And a "child" beyond the age of reason who kicks another in the head or in the abdomen is guilty of attempted murder. Do you get my drift?
The continuing saga of lily-livered generals and other military officers who hold their protests for a time long after their statements could have saved lives. See "At an Army School for Officers, Blunt Talk About Iraq Strategy"( NYTimes Sunday, pA1. ). Maybe we'll do better with the next crop of officers.
Connecticut and other States, under heavy pressure from some of their constituents, are looking for places to house sex offenders who have completely served out their prison terms. Be careful, folks. In the former - and probably current - Soviet Union, they called such places gulags.
Another example of "Stupid Is As Stupid Does": the so-called sub-prime mortgage crisis. Apart from the crooks in the pin-striped suits, the rest has to do with something that used to be called "living beyond your means". There should be no bail-out for that. But then, there is the old saw: "If you owe the bank a little, the bank ownes you; if you owe the bank a lot, you own the bank".
An editorial in the Connecticut section of the NYTimes on Sunday blows a belated whistle on the inebriated State of Connecticut, decades of efforts to enact effective drunk-driving laws have always been washed away in waves of "suds". Historically, the main wave-surfers have been on the Judiciary Committee. When will that change? Let's drink to that.

GS

MONDAY through SATURDAY,

October 8 through 13,

2007



Suddenly, we're back to a very active news cycle.
I'm going to have to stop calling him "AlGore". Former Vice President Al Gore has gained substantially in stature in the last few years, on his way to becoming a "Class Act". As the saying goes: "Character: Grace Under Pressure". Depending upon who becomes the Republican nominee for President, I wouldn't rule out voting for him if he ended up being the Democratic candidate. As Mel Allen of the NY Yankees used to say: "How about that?"
Grisly and staged street fights, drug busts and now murder in New London, Ct. This has got to stop. No more political correctness. No more judges as social workers of last resort. LAW AND ORDER!
Here we go again. Why didn't General Sanchez quit and protest the irresponsible prosecution of the Iraq War by Rumsfeld and company in 2003 or 2004, instead of waiting until yesterday to do so? (See my recurring indictments beginning in the Summer of 2003. Would I, myself, have done what I saying now? You bet! And, by the way, the good retired General is also thinking of writing a book...now.
President Putin is nothing but an old-style dictator, in the mould of so many others that the Russian people have deserved through the centuries. And we should deal with him as such.
How do you send about 100,000 heavily armed American and American paid civilizians (ie. Blackwater) to Iraq with no legal oversight? Who is minding the store there in Washington D.C.? What idiocy.
What do you get when you place light-weights in a heavy-weight job? You get House Speaker Pelosi declaring war on a critical ally at a critical juncture in the MidEast. "STUPID IS AS STUPID DOES".
Kids - guns - parents. What the hell is going on here? Parents should be held legally and criminally liable for the criminal mis-adventures of their minor children when they "knew or should have known...." And get rid of this "privacy" crap. If a minor child wants "privacy", including locking the bedroom door, let him or her rent an apartment. And that includes college students who are still dependents of their parents. COMMON SENSE, FOLKS.
One developing disgrace is the story of our dealings with our veterans. You will hear much more about this in the near future. This is a cause that we all should inlist in.

GS

SATURDAY and SUNDAY,

October 6 and 7

, 2007

BARABING! America owes its independence in part to France. Now, do we love to hate them? Or do we hate to love them? GS



Here's a couple you may not have heard yet.

Back when Colin Powell was Sec of State he was being interviewed in England by a group of international reporters when a French reporter asked him: "Does America expect to retain control of any of the territory you have conquered recently?"

Powell slowly responded with: "Yes. We will surely retain control of some territory It will be like the territory we retained in France after World War II. If you will check you will see that we retained an area of about six feet by three ft for each American lost in France who is buried there."

____________________________________________________________

Then there was a conference in France where a number of international engineers were taking part, including French and American.

During a break one of the French engineers came back into the room saying "Have you heard the latest dumb stunt Bush has done? He has sent an aircraft carrier to Indonesia to help the tsunami victims. What does he intend to do, bomb them?"

A Boeing engineer stood up and replied quietly:

"Our carriers have three hospitals on board that can treat several hundred people; they are nuclear powered and can supply emergency electrical power to shore facilities; they have three cafeterias with the capacity to feed 3,000 people three meals a day, they can produce several thousand gallons of fresh water from sea water each day, and they carry half a dozen helicopters for use in transporting victims and injured to and from their flight deck.. We have eleven such ships; how many does France have?" Once again, dead silence.

_____________________________________________________

A U.S. Navy Admiral was attending a naval conference that included Admirals from the U.S., English, Canadian, Australian and French Navies.

At a cocktail reception, he found himself standing with a large group of Officers that included personnel from most of those countries.

Everyone was chatting away in English as they sipped their drinks but a French admiral suddenly complained that, 'whereas Europeans learn many languages, Americans learn only English.'? He then asked, 'Why is it that we always have to speak English in these conferences rather than speaking French?'

Without hesitating, the American Admiral replied 'Maybe it's because the Brits, Canadians, Aussies and Americans arranged it so you wouldn't have to speak German.'

You could have heard a pin drop!!


FRIDAY,

October

5, 2007

Demographics of Newspapers...For Your Reading Pleasure". GS


Demographics of Newspapers

1. The Wall Street Journal is read by the people who
run the country.

2. The Washington Post is read by people who think
they run the country.

3. The New York Times is read by people who think
they should run the country and who are very good at
crossword puzzles.

4. USA Today is read by people who think they ought
to run the country but don't really understand The
New York Times. They do, however, like their
statistics shown in pie charts.

5. The Los Angeles Times is read by people who
wouldn't mind running the country -- if they could
find the time -- and if they didn't have to leave
Southern California to do it.

6. The Boston Globe is read by people whose parents
used to run the country and did a far superior job
of it, thank you very much.

7. The New York Daily News is read by people who
aren't too sure who's running the country and don't
really care as long as they can get a seat on the
train.

8. The New York Post is read by people who don't
care who's running the country as long as they do
something really scandalous, preferably while
intoxicated.

9. The Miami Herald is read by people who are
running another country but need the baseball
scores.

10. The San Francisco Chronicle is read by people
who aren't sure there is a country . . or that
anyone is running it; but if so, they oppose all
that they stand for. There are occasional exceptions
if the leaders are handicapped minority feminist
atheist dwarfs who also happen to be illegal aliens
from any other country or galaxy, provided of
course, that they are not Republicans.

11. The National Enquirer is read by people trapped
in line at the grocery store.

12. The Oregonian is read by people who have
recently caught a fish and need something in which
to wrap it.


THURSDAY,

October

4, 2007

Is there anyone in this gang that you would feel comfortable with leading our country? GS



In a Democratic debate, rivals assail Clinton

By Steve Holland and Ellen Wulfhorst Thu Sep 27, 1:31 AM ET

HANOVER, New Hampshire (Reuters) - Democratic presidential candidates pounced on rival Hillary Clinton for her positions on Iraq and Iran in a debate on Wednesday as they sought to undercut her status as the campaign front-runner.


Former North Carolina Sen. John Edwards, a distant third place in most national polls and needing a breakthrough performance, led the attack against Clinton on the campus at Dartmouth College.

With the Democratic left-wing demanding a hasty U.S. timetable out of Iraq, Edwards criticized the New York senator for not ruling out that U.S. troops might engage in some combat missions in Iraq if she were to win the 2008 election.

"To me that's a continuation of the war," Edwards said. "Combat missions mean that the war is continuing. I believe the war needs to be brought to an end."

Edwards' broadside put Clinton on the defensive at a time when she is enjoying a comfortable lead in opinion polls and trying to appear above the fray. But there was no sign that the debate would prompt a major shake-up in the Democratic field.

"There may be a continuing counter-terrorism mission," she said, while adding that "the vast majority" of American troops would be out of Iraq by the end of her prospective first term in 2013.

The cross-fire on the campus of Dartmouth College came at the first debate of the critical autumn season leading up to the early voting contests in January ahead of the November 2008 election to replace President George W. Bush.

Iraq was a dominant theme of the debate as Democrats seek a way to force Bush to change his war strategy, which may leave as many as 100,000 troops there by the time the next president is inaugurated in January 2009.

IRAN'S REVOLUTIONARY GUARD

Iran occupied plenty of attention as well. Washington accuses Iran of trying to develop a nuclear bomb and supplying weapons to Iraqi guerrillas fighting the U.S. forces. Tehran denies the charges.

Edwards criticized Clinton for voting earlier in the day in Washington to approve a nonbinding motion calling on the State Department to designate Iran's Revolutionary Guard as "a foreign terrorist organization," which Edwards said was a potential first step toward war against Iran.

"I have no intention of giving George Bush the authority to take the first step on a road to war with Iran," Edwards said, pointedly mentioning that two other candidates on stage, Delaware Sen. Joe Biden and Connecticut Sen. Christopher Dodd, had voted against the measure.

Long-shot candidate Mike Gravel jumped on Clinton as well, saying, "I am ashamed of you, Hillary, for voting for it."

After a loud laugh at the often-comical Gravel, Clinton defended her vote.

She said it would allow the U.S. government to designate the Revolutionary Guard "as a terrorist organization which gives us the options to be able to impose sanctions on the primary leaders to try to begin to put some teeth into all this talk about dealing with Iran."

OBAMA HOLDS HIS PUNCHES

Illinois Sen. Barack Obama, in second place in the polls despite leading in fund-raising, held his punches against Clinton.

He reiterated his position that he would engage in direct talks with Iran, a pledge Clinton has said shows Obama is too inexperienced to be president.

"We've got to talk to our enemies and not just our friends," Obama said.

Biden suggested Clinton's experience as first lady in the administration of her husband, former President Bill Clinton, when she tried unsuccessfully in the 1990s to reform health care, would hamper her effectiveness as a U.S. president.

"I'm not suggesting it's Hillary's fault. I think it's a reality that it's more difficult, because there's a lot of very good things that come with all the great things that President Clinton did, but there's also a lot of the old stuff that comes back," Biden said.

As Clinton fixed a chilly stare on him, Biden hurriedly added: "When I say old stuff, I'm referring to policy, policy."

WEDNESDAY,

October 3

, 2007



BEAUTIFULLY WRITTEN AND VERY, VERY SCARY! IT IS WELL WORTH YOUR TIME. GS





MIDDLE EAST IMPERATIVE BY

JIM CASH, Brig. Gen., USAF, Ret.

I wrote recently about the war in Iraq and the larger war against radical Islam, eliciting a number of responses. Let me try and put this conflict in proper perspective.

Understand, the current battle we are engaged in is much bigger that just Iraq. What happens in the next year will affect this country and how our kids and grandkids live throughout their lifetime, and beyond. Radical Islam has been attacking the West since the seventh century. They have been defeated in the past and decimated to the point of taking hundreds of years to recover. But they can never be totally defeated. Their birth rates are so far beyond civilized world rates that in time they recover and attempt

to dominate again. There are eight terror-sponsoring countries that make up the grand threat to the West. Two, Saudi Arabia and Pakistan just need firm pressure from the West to make major reforms. They need to decide who they are really going to support and commit to that support. That answer is simple. They both will support who they think will hang in there until the end, and win. We are not sending very good signals in that direction right now, thanks to the Democrats.

The other six, Afghanistan, Iraq, Iran, Syria, North Korea and Libya will require regime change or a major policy shift. Now, let's look more closely.

Afghanistan and Iraq have both had regime changes, but are being fueled by outsiders from Syria and Iran. We have scared Gaddafi's pants off, and he has given up his quest for nuclear weapons, so I don't think Libya is now a threat. North Korea (the non-Islamic threat) can be handled diplomatically by buying them off. They are starving. That leaves Syria and Iran. Syria is like a frightened puppy. Without the support of Iran they will join the stronger side. So where does that leave us? Sooner, or later, we are going to be forced to confront Iran, and it better be before they gain nuclear capability.

In 1989 I served as a Command Director inside the Cheyenne Mountain complex located in Colorado Springs, Colorado for almost three years. My job there was to observe (through classified means)

every missile shot anywhere in the world and assess if it was a threat to the US or Canada. If any shot was threatening to either nation I had only minutes to advise the President, as he had only minutes to respond. I watched Iran and Iraq shoot missiles at each other every day, and all day long, for months. They killed hundreds of thousand of their people. Know why? They were fighting for control of the Middle East and that enormous oil supply.

At that time, they were preoccupied with their internal problems and could care less about toppling the west. Oil prices were fairly stable and we could not see an immediate threat. Well, the worst part of what we have done as a nation in Iraq is to do away with the military capability of one of those nations. Now, Iran has a clear field to dominate the Middle East, since Iraq is no longer a threat to them. They have turned their attention to the only other threat to their dominance, the United States. They are convinced they will win, because the United States is so divided, and the Democrats (who now control Congress and may control the Presidency in 2008) have openly said we are pulling out.

Do you have any idea what will happen if the entire Middle East turns their support to Iran, which they will obviously do if we pull out? It is not the price of oil we will have to worry about. Oil will not be made available to this country at any price. I personally would vote for any presidential candidate who did what

JFK did with the space program---declare a goal to bring this country to total energy independence in a decade.

Yes, it is about oil. The economy in this country will totally die if that Middle East supply is cut off right now. It will not be a recession. It will be a depression that will make 1929 look like the "good-old-days".

The bottom line here is simple. If Iran is forced to fall in line, the fighting in Iraq will end over night, and the nightmare will be over. One way or another, Iran must be forced to join modern times and the global community. It may mean a real war---if so, now is the time, before we face a nuclear Iran with the capacity to destroy Israel and begin a new ice age. I urge you to read the book "END GAME" by two of our best Middle East experts, true American patriots and retired military generals, Paul Vallely and Tom McInerney. They are our finest, and totally honest in their assessment of why victory in the Middle East is so important, and how it can be won. Proceeds for the book go directly to memorial fund for our fallen soldiers who served the country during the war on terror. You can find that book by going to the internet through Stand-up America at www.ospreyradio.us or www.rightalk.com.

On the other hand, we have several very angry retired generals today, who evidently have not achieved their lofty goals, and insist on ranting and raving about the war. They are wrong, and doing the country great harm by giving a certain political party reason to use them as experts to back their anti-war claims.

You may be one of those who believe nothing could ever be terrible enough to support our going to war. If that is the case I should stop here, as that level of thinking approaches mental disability in this day and age. It is right up there with alien abductions and high altitude seeding through government aircraft

contrails. I helped produced those contrails for almost 30 years, and I can assure you we were not seeding the atmosphere. The human race is a war-like population, and if a country is not willing to protect itself, it deserves the consequences.

Now, my last comments will get to the nerve. They will be on politics. I am not a Republican. And, George Bush has made enough mistakes as President to insure my feelings about that for the rest

of my life. However, the Democratic Party has moved so far left, they have made me support those farther to the right. I am a conservative who totally supports the Constitution of this country. The only difference between the United States and the South American, third world, dictator infested and ever-changing South

American governments, is our US Constitution.

This Republic (note I did not say Democracy) is the longest standing the world has ever known, but it is vulnerable. It would take so little to change it through economic upheaval. There was a time when politicians could disagree, but still work together. We are past that time, and that is the initial step toward the downfall of our form of government. I think that many view Bush-hating as payback time. The Republicans hated the Clintons and now the Democrats hate Bush. So, both parties are putting

their hate toward willingness to do anything for political dominance to include lying and always taking the opposite stand just for the sake of being opposed. JUST HOW GOOD IS THAT FOR OUR COUNTRY?

In my lifetime, after serving in uniform for President's Kennedy, Johnson, Nixon, Ford, Carter, Reagan, and Bush I have a pretty good feel for which party supported our military, and what military life was like under each of their terms. And, let me assure you that times were best under the Republicans. Service under Jimmy Carter was devastating for all branches of the military. And, Ronald Regan was truly a salvation.

You can choose to listen to enriched newscasters, and foolish people like John Murtha (he is no war hero), Nancy Pelosi, John Kerry, Michael Moore, Jane Fonda, Harry Reid, Russ Feingold, Hillary Clinton, Ted

Kennedy, and on-and-on to include the true fools in Hollywood if you like. If you do, your conclusions will be totally wrong.

The reason that I write, appear on radio talk shows, and do everything I can to denounce those people is simple. THEY ARE PUTTING THEIR THIRST FOR POLITICAL POWER AND QUEST FOR VICTORY IN 2008 ABOVE WHAT IS BEST FOR THIS COUNTRY.

I cannot abide that. Pelosi clearly defied the Logan Act by going to Syria, which should have lead to imprisonment of three years and a heavy fine. Jane Fonda did more to prolong the Vietnam War longer than any other human being (as acknowledged by Ho Chi Minh in his writing before he died). She truly should have been indicted for treason, along with her radical husband Tom Hayden, and forced to pay the consequences.

This country has started to soften by not enforcing its laws, which is another indication of a Republic about to fall.

All Democrats, along with the Hollywood elite, are sending us headlong into a total defeat in the Middle East, which will finally give Iran total dominance in the region. A lack of oil in the near future will be the final straw that dooms this Republic.

However, if we refuse to let this happen and really get serious about an energy self-sufficiency program, this can be avoided.

I am afraid, however, that we are going in the opposite direction. If we elect Hillary Clinton and a Democrat controlled congress, and they carry through with allowing Iran to take control of the Middle East, continue to refuse development of nuclear energy, refuse to allow drilling for new oil, and continue to do nothing but oppose everything Bush, it will be over in terms of what we view as the good life in the USA.

Now, do I think that all who do not support the war are un-American---of course not. They just do not understand the importance of total victory in that region. Another failure of George Bush is his inability to explain to the American people why we are there, and why we MUST win. By the way, it is not a war. The war was won four years ago. It is martial law that is under attack by Iranian and Syrian outside influences, and there is a difference.

So, what do I believe? What is the bottom line? I will simply say that the Democratic Party has fielded the foulest, most power hungry, anti-country, self absorbed group of individuals that I have observed in my lifetime. Our educational system is partially to blame for allowing the mass of America to be taken in by this

group. George Bush has done the best he can with the disabilities that he possesses. A President must communicate with the people. And, I would tell you that Desert Storm spoiled the people. Bush

Senior's 100-hour war convinced the people that technology has progressed to the point that wars could be fought with no casualties and won in very short periods of time. I remember feeling at the time, that this was a tragedy for the US military. To win wars, you must put boots on the ground. When you put boots

on the ground, soldiers are going to die. A President must make the war decision wisely, and insure that the cause is right before using his last political option.

However,

CONTROLLING IRAN AND DEMOCRATIZING THE MIDDLE EAST IS THE ONLY CHOICE IF WE ARE HELL-BENT ON DEPENDING ON THEM FOR OUR FUTURE ENERGY NEEDS.

Jimmy L. Cash, Brig. Gen., USAF, Ret. jcash1@bresnan.net

349 Jib Lane

Lakeside, Montana 5992




TUESDAY

, October 2

, 2007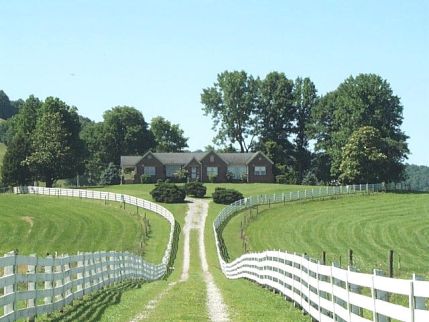 House #1 A 20-room mansion (not including 8 bathrooms) heated by natural gas. Add on a pool (and a pool house) and a separate guest house, all heated by gas. In one month this residence consumes more energy than the average American household does in a year. The average bill for electricity and natural gas runs over $2400 per month. In natural gas alone, (which last time we checked was a fossil fuel), this property consumes more than 20 times the national average for an American home. This house is not situated in a Northern or Midwestern "snow belt" area, either. It's in the South.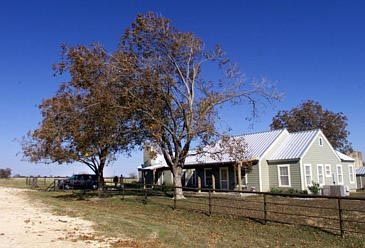 House #2 Designed by an architecture professor at a leading national university. This house incorporates every "green" feature current home construction can provide. The house is 4,000 square feet (4 bedrooms) and is nestled on a high prairie in the American southwest. A central closet in the house holds geothermal heat-pumps drawing ground water through pipes sunk 300 feet into the ground. The water (usually 67 degrees F.) heats the house in the winter and cools it in the summer. The system uses no fossil fuels such as oil or natural gas and it consumes one-quarter electricity required for a conventional heating/cooling system. Rainwater from the roof is collected and funneled into a 25,000 gallon underground cistern. Wastewater from showers, sinks and toilets goes into underground purifying tanks and then into the cistern. The collected water then irrigates the land surrounding the house. Surrounding flowers and shrubs native to the area enable the property to blend into the surrounding rural landscape.

HOUSE #1 is outside of Nashville, Tennessee; it is the abode of the "environmentalist" Al Gore.

HOUSE #2 is on a ranch near Crawford, Texas; it is the residence of the President of the United States, George W. Bush.

(It was Gore who released the documentary film, "An Inconvenient Truth", on the issue of global warming!)

Here's the verification: http://www.truthorfiction.com/rumors/g/gore-bush-houses.htm



MONDAY

,

October 1

, 2007



Yes, I'm still here. But, to borrow the message that air raid wardens periodically gave to their wards in London bomb shelters during "The Blitz": "Ladies and Gentlemen, the news is...there's no news". Or at least nothing that I have not already addressed.

But please "stay tuned".

GS



---
---
(c) Copyright 1999-2023 Allergy Associates of New London, PC